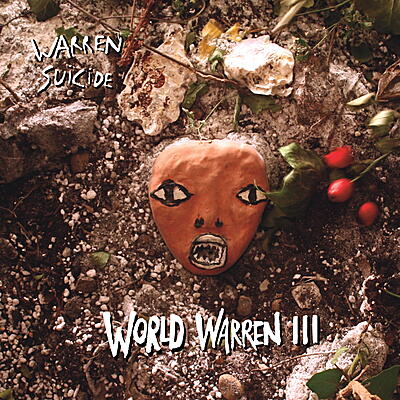 Incl. Instant Download
WORLD WARREN III heisst das dritte Album von Band, Kollektiv, Gesamtkunstwerk WARREN SUICIDE um Cherie und Nackt aus Berlin. Und dieses Album ist im wahrsten Sinne des Wortes phantastisch. Eine Friedenserklärung, ein naiver Riese. Denn nach den Alben HELLO/WARREN SUICIDE und REQUIEM FOR A MISSING LINK ist WWIII eine Abkehr von der Zerissenheit zwischen Genres und binärem Code, zu Gunsten eines "Dritten" Prinzips: Warren Peace !
Dualität bedeutet nicht Konflikt, sondern ist Quelle eines neuen Gefühls, den permanent zwischen "Krieg und Frieden" schwankenden Energien jeweils den entscheidenden Auschlag geben zu
können .
WE DECLARE WARREN PEACE
So klingt auch die Musik, die sich selbstbewusst abwendet von der Vergangenheit .
WWIII ist vielmehr Science Fiction und Lust, eine analoge Zukunftsgeschichte voller Optimismus.
Lieder wie IN LOVE WITH THE ENEMY, ANIMAL PARTY oder MOVING CLOSE (letzteres mit T.RAUMSCHMIERE als Gastsänger) rauschen, zirpen und donnern mit einem ganz eigenen, nie gehörten Groove. Da wird der Geist des Sounds beschworen, der so wenig Plug-Inesk anmutet wie ein Buch, wie ein Technicolor Film, wie eine Reise ins große Kino, die heute wie noch nie besticht.
Diese Musik hat Carte Blanche und wählt die Freiheit: verliebt und anarchistisch.
Warren Suicide

:

World Warren III

We Declare Warren Peace

Warren Suicide

5' 34''

Hello Mom

Warren Suicide

3' 58''

Fuck Off Happy

Warren Suicide

3' 18''

In Love With The Enemy

Warren Suicide

6' 31''

Cyberkid

Warren Suicide

4' 48''

Moving Close

(feat. T.Raumschmiere)

Warren Suicide

4' 32''

Forgive Me

Warren Suicide

4' 37''

Animal Party

Warren Suicide

3' 33''

Hollywood Yourself

(feat. T.Raumschmiere)

Warren Suicide

3' 57''

Short Message

Warren Suicide

4' 55''
Auch schön: