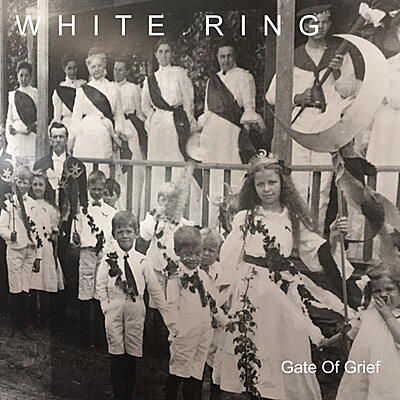 White Ring mark a triumphant return with a brand new full-length Gate Of Grief. Their debut album arrives a full eight years since their benchmark EP, Black Earth That Made Me, which sold out almost instantly, making their records some of the most highly sought after on the underground scene and earning them a cult following across the globe. Swerving from aggressively abrasive to beautifully ethereal and drawing from a varied and challenging palette, they tackle loss, acceptance, struggles with drug addiction and existential dread.

Originally formed by Bryan Kurkimilis and Kendra Malia, before they were joined by Adina Viarengo, with Bryan and Adina currently touring as a duo, they are one of the most acclaimed proponents of the "Witch House" movement. Blending heavy, distorted electronics with eerie, unsettling vocals, this new release, created over the course of seven years, pushes the boundaries even further, subverting genre ideas and mashing them all together, with industrial, metal, rave, chopped and screwed, rap, grunge, neo folk, post punk and new wave all in the mix.

Dwelling on the outskirts of pop music, the band members grew up in the age of the internet and were exposed to a huge range of music, which allowed them to develop a unique style while pushing the boundaries of accessibility and genre. Gate Of Grief refers to the real gate between Africa and Saudi Arabia that is believed to be the spot where the first humans migrated out of Africa and went on to populate the rest of the world. White Ring have created an album that is brimming with symbolism and underlying tensions, that seduces and scares in equal measure.
White Ring

:

Gate Of Grief

Heavy Self Alienation

White Ring

1' 58''

Leprosy

White Ring

2' 00''

Angels

White Ring

2' 00''

Fields of Hate

White Ring

2' 00''

Low

(featuring Fostercare)

White Ring

2' 00''

Nothing

White Ring

2' 01''

Lasts In

White Ring

2' 00''

Amerika

(Lord Of The Flies)

White Ring

2' 00''

Home Of The Brave

White Ring

2' 00''

Burn It Down

White Ring

2' 00''

Do U Love Me 2?

White Ring

2' 00''
Auch schön: