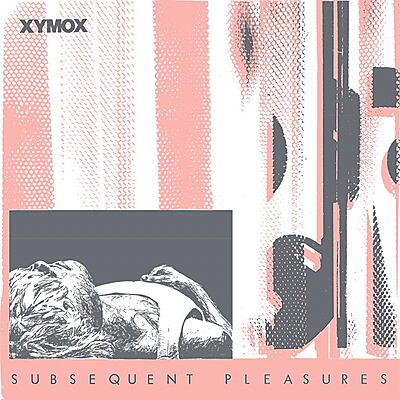 LP: Incl. fold-out pink newsprint poster
Xymox was founded in Nijmegen, a city in the east of the Netherlands in 1983 by Ronny Moorings (Vocals, Guitars, Synthesizers) and Anka Wolbert (Vocals, Bass). In April of that year Mooringa bought a TEAC 144 four-track tape recorder and the duo moved to Amsterdam. They began to record songs utilizing a Yamaha CS-15, Korg MS-10 and MS-20, a BOSS Dr. Rhythm DR-550, guitar and effects pedals. They layered the drone-like tones of monophonic synthesizers alongside tape loops and rhythm tracks, then played guitar and bass, without the use of computers. The 5-song EP Subsequent Pleasures was released in 1984 and limited to 500 vinyl copies, and served as a precursor to the dark wave sounds they would champion on their self-titled debut on 4AD the following year. Also of note, the track "Muscoviet Musquito", was later re-recorded for the compilation album "Lonely Is An Eyesore" released by 4AD in 1987.

All songs have been remastered for vinyl by George Horn at Fantasy Studios in Berkeley. All jackets have been silk-screened with pink and grey paint, using the original plates Anka created in 1984. Each copy includes a fold-out pink newsprint poster with never before seen photos of the band, lyrics and liner notes by Anka and Ronny. See the colors and waves in this deluxe 30th anniversary edition of a classic piece of Dutch history, highly sought after by collectors.
Xymox

:

Subsequent Pleasures

Going Round

Xymox

1' 30''

Moscovite Musquito

Xymox

1' 31''

Strange 9 To 9

Xymox

1' 31''

Call It Weird

Xymox

1' 30''

Abysmal Thoughts

Xymox

1' 30''
Auch schön: