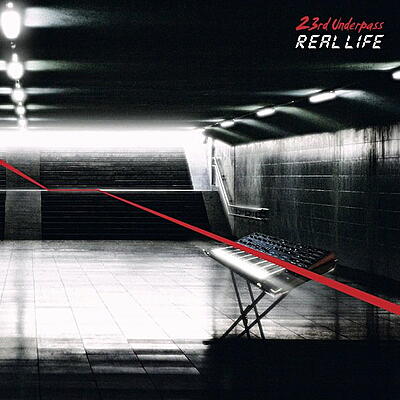 2LP: Ltd. edition, UV varnished gatefold sleeve
New label Nadanna - a joint venture between Anna Logue Records and Electro Aggression Records - dedicated to blurring the lines between minimal synth, Italo disco and electropop and now bringing the debut album of the mega-talented Italo disco/dark synthpop Greek act 23rd UNDERPASS:

23rd UNDERPASS was founded in 2009 in Athens by Costa Andriopoulo (composition, songwriting). The same year saw the release of the 12" maxi single "You'll Never Know / Sometimes" in collaboration with Taxiarhis Zolotas (lyrics, vocals) and John Papagiannis (arrangements) on the Dutch/Italian record label Iventi Records. The single became a smash hit and sold out within two weeks time! The first video clip was aired in 2010 following up on the success of the single. The music contains influences from Italo disco, synthpop and new wave.

Since 2013, 23rd UNDERPASS consists of Costa Andriopoulo (composition, songwriting) and Nadia Vassilopoulou (lyrics, vocals) with them collaborating with various artists on vocals, amongst them Giannis Dimoulas (September Code) and Leo Skiadas (Cinemascope).
23rd Underpass

:

Real Life

Real Life

(Start Living, Living Again)

23rd Underpass

4' 41''

Planet 21

23rd Underpass

4' 34''

Running

(Thousand Miles Away)

23rd Underpass

6' 23''

Tears In My Mind

(Dream Version)

23rd Underpass

8' 46''

Because Of Me

23rd Underpass

6' 17''

Chances

(Full Ambient Mix)

23rd Underpass

8' 45''

My Life

23rd Underpass

4' 01''

Invisible

23rd Underpass

4' 14''

Everytime

23rd Underpass

5' 40''

The Boy Within

23rd Underpass

5' 20''

Remember

23rd Underpass

5' 42''

The Night Has Come

23rd Underpass

4' 33''

Because Of Me

(Another Version)

23rd Underpass

8' 02''

Invisible

(Another Version)

23rd Underpass

5' 57''

You'll Never Know

23rd Underpass

4' 42''

Sometimes

(Another Version)

23rd Underpass

5' 32''
Nice as well: