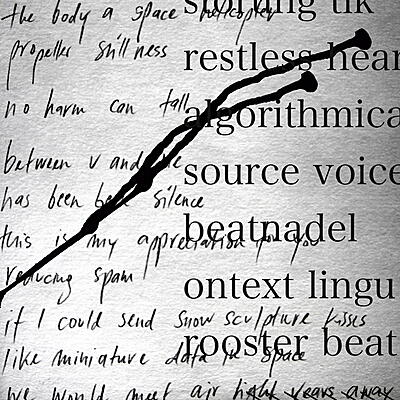 Incl. Instant Download
AGF aka Antye Greie releases 7th solo record.
 
Tags: digital music, vocal art, Joan La Barbara, frequency theory, Eliana Radigue, Yoko Ono, yoik, poemproducer
Beatnadel (Beat Needle) is a piercing sonic outburst of razor-edged beats and pilot vocal art. 
AGF is a rare combination of a composer/ producer and vocalist. This is digital songwriting with beat structures and penetrating sound sculptures to inspire the mind. 
The tracks have been constructed out of large self-designed sample banks, voice, bass, synthesized sounds and discerning effect treatments. The music is sequenced to a large extend and holds an aggressive undertone compared to her recent works. AGF has cut out original tracks with surprise narrative and breathtaking precicion in editing and sculpturing the sound. Deconstructed poetry, aggressive beat patterns, tender song writing, drone parts, full frequency spectrum.
"I want to built a new tradition, an aural tradition, transmitted via the ears." Karlheinz Stockhausen, London 1971
"He says, the one who is not afraid is anyway cheerful and does not need to sing" Janosch in "Kleiner Hase, Grosser Held"
"It's not a question of time, it's that people today lack a certain frame of mind. Time is no excuse, your time should be spent on self-improvement, there's no better way to spent your time." Ai Wei Wei in his blog
Having worked with great composers of our time such as Vladislav Delay, Eliane Radigue, Craig Armstrong and produced records for Ellen Allien, with Gudrun Gut and many others AGF once again concentrates on voice and post club crossover.
After finishing a stage play soundtrack "Orlando" with classical composer Craig Armstrong, and releasing a conceptual poetry work "Gedichterbe" about German heritage of language earlier this year, Beatnadel is a very personal form of expression with no compromise. 
Lingu-tik features the voice of Prof. Noam Chomsky. Otherwise the work is composed, recorded, mixed, mastered and executed by AGF. Artwork, calligraphy by AGF.
AGF

:

Beatnadel

Restless Heart

AGF

2' 42''

Rooster Beats

AGF

3' 59''

Lingu-tik

(Feat. Prof Noam Chomsky)

AGF

4' 00''

The More The Better, Less Is More

AGF

4' 06''

Organizing Pieces

AGF

4' 07''
Nice as well: