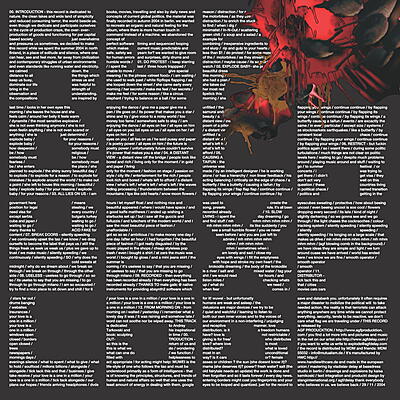 Incl. Instant Download
ANTYE GREIE aka AGF (Germany) and Vladislav Delay (Finland), both known for their various solo releases and worldwide performances release their first full lenght collaborational album. A dialogue between a drummer and a vocalist, two musical activists combine their talents and express their views with music they aspire for, exploring it in their unique way.
AGF/DELAY exercise a conscious decision to stay away from their signature sounds and styles featured on their solo works.
EXPLODE BABY is a complex collaboration with special ingredients both artists possess and bring in. The album hosts big and small stories, where human touch is always present and imagination is given a room to breathe. The album displays a mutual mix of their influences and musical needs. The duo collected inspiration for this album from the contemporary life and people seen around, in news and on the streets. Observing the world from various angles. Recollections of what was witnessed or heard, felt or understood. Bringing the memories in and keeping the emotions open, they translate what's under into an eclectic and personal collage of sound and soul where sometimes less is more.
Self-release from the home studio. Music in their common language. The world as their inspiration. AGF/DELAY share a passion to cross borders, musically and while travelling, with an open mind. Subtle suggestions. Definite expressions. Silent explosions.
AGF / Delay

:

Explode

Do Protest

AGF / Delay

3' 51''

Explode Baby

AGF / Delay

6' 15''

All Lies On Us

AGF / Delay

3' 26''

A Distant View

AGF / Delay

3' 32''

Causing A Taifun

AGF / Delay

3' 32''

Restrict

AGF / Delay

4' 04''

Break Doors

AGF / Delay

4' 06''

Useless

AGF / Delay

5' 03''

Recorded

AGF / Delay

3' 00''

Slow Living

AGF / Delay

5' 59''

Distributor

AGF / Delay

3' 27''

From Morning On

AGF / Delay

5' 01''
Nice as well: