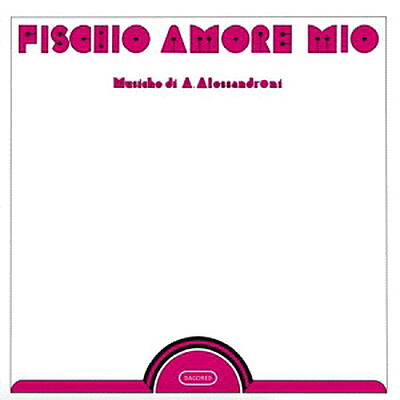 Alessandro Alessandroni
Fischio Amore Mio
Dagored
RED311LP
LP: White Vinyl, Ltd to 300.
What would it be "a fistful of dollars" without Alessandro Alessandroni's whistle? Alessandroni - not accidentally nicknamed by Fellini "il fischio" - started his whistling career within Nino Rota's orchestra to then become the hallmark of the spaghetti western era.

First reissue ever for this stunning LP, originally released under the legendary Flipper imprint in 1976, which presents a collection of astonishing "whistle" pieces by Alessandroni.
Alessandro Alessandroni

:

Fischio Amore Mio

Marea

Alessandro Alessandroni

00' 00''

Harlem Swing

Alessandro Alessandroni

00' 00''

Serenata

Alessandro Alessandroni

00' 00''

Fiera Paesana

Alessandro Alessandroni

00' 00''

Codice D'Onore

Alessandro Alessandroni

00' 00''

Costa Azzurra

Alessandro Alessandroni

00' 00''

Aria Di Quartiere

Alessandro Alessandroni

00' 00''

Ossessivo Per Fischio

Alessandro Alessandroni

00' 00''

All'imbrunire

Alessandro Alessandroni

00' 00''

Libera Uscita

Alessandro Alessandroni

00' 00''

Amore Mio

Alessandro Alessandroni

00' 00''

Night Swing

Alessandro Alessandroni

00' 00''

La Sfida

Alessandro Alessandroni

00' 00''

Gianicolo

Alessandro Alessandroni

00' 00''

Boy Scout

Alessandro Alessandroni

00' 00''

Ritratto

Alessandro Alessandroni

00' 00''

La Mia Provincia

Alessandro Alessandroni

00' 00''

Tea Room

Alessandro Alessandroni

00' 00''
Nice as well: