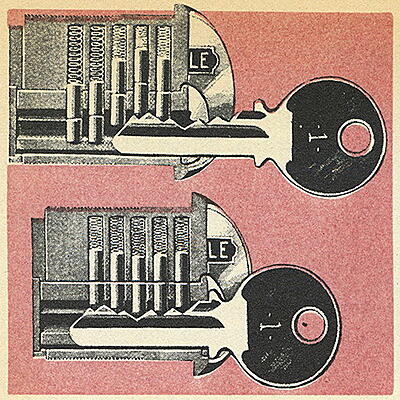 The color pink corresponds metaphysically with the 3rd cosmic ray, symbolizing divine love and gentleness. The expression of the pink ray acts as a means of communication by radio, telephone, and telegraph and accesses the power to travel to inner planes. The keys unlock this ability, and the keyhole represents the portal we pass through.
Pink Keys is the 4th solo album from musician & visual artist Alice Cohen. Using the idea of etheric keyholes as portals, the 11 songs act as keys; unlocking visions of different eras, places and dimensions of consciousness. The album showcases Cohen's versatility as a musician and songwriter by drawing from a wide range of influences including her roots in 70's Philly Soul/disco, 80's new wave, and cosmic electronic music. Pink Keys unfurls like a roll of old film, revealing scenes of mystical realms and utopian beachscapes, as well as tawdry street scenes, where neon hotel signs blink, and a magician's silks flutter.
The album was recorded over a span of nine months at her home in Brooklyn, and was mixed by Chris Moore (Yeah Yeah Yeah's, TV on the Radio, Liars) at Headgear Studios. It features guest appearances from Autre Ne Veut and Danny Lane (Sofa Club) on backing vocals, Thor Harris (Swans/Smog/Shearwater) on percussion, and Sara Villard (K-Holes/Bezoar) on saxophone.
Alice Cohen

:

Pink Keys

Cascading Keys

Alice Cohen

3' 18''

Silent Movie

Alice Cohen

4' 03''

The Locksmith

Alice Cohen

3' 34''

Dead Leaves In Milk Glass

Alice Cohen

3' 21''

Sheepshead Bay

Alice Cohen

5' 18''

La Fete Etrange

Alice Cohen

3' 35''

Mauve Mood

Alice Cohen

3' 47''

Sunspots

Alice Cohen

4' 27''

Salamander's Tale

Alice Cohen

2' 00''

The Lacemakers

Alice Cohen

2' 51''

Color Of The Sea

Alice Cohen

4' 43''
Nice as well: