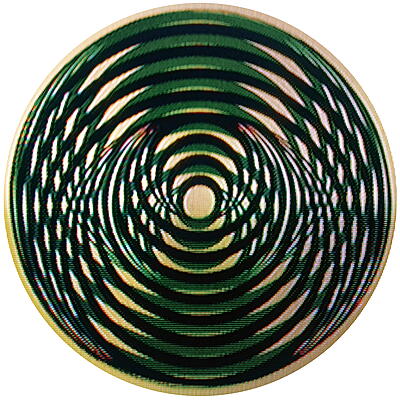 EP: Hybrid-vinyl: Picture-Disc on one side (no music), black vinyl on the other (music)
Incl. Instant Download
Here's the 2nd part in Dekorder's brand new series of highly limited Hybrid-Vinyl 12" releases to celebrate the 10 year anniversary of the label. It comes out simultaneously with parts 3 (Ensemble Economique) and 4 (Kemialliset Ystävät). The 1st part by Pye Corner Audio has been a massive success and sold out within two weeks (remaining copies are only available to subscribers).
Hybrid-Vinyl is a newly devised combination of a Picture-Disc on one side and a regular vinyl release on the other. The audio will be cut into the black vinyl side to utilise the superior audio quality of classic vinyl (compared to the often weaker sounding picture disc pressings).
"Kugeln" is Alien Radio's 3rd release after the sold-out split-LP with Keith Fullerton Whitman and a 4-way split 7" on the Belgian Kraak label with Köhn, Ducktails and Peaking Lights. AR is one of many aliases of Northern Germany's Ulf Schütte, a (part-time) member of Datashock, Black To Comm, Aosuke, Phantom Horse, etc. and founder of the Tape Tektoniks cassette label (Heatsick, Ducktails, Cloudland Canyon, etc.). Like his previous works "Kugeln" has been produced mainly on Schütte's Modular Synthesizer.
His music has (rightly) been compared to the works of Ursula Bogner, Conny Plank, Dick Raaijmakers, Cluster/Harmonia and the BBC Radiophonic Workshop. There's an atmosphere of ease and playfulness in Schütte's compositions and his melodies and arrangements have over time become more and more varied and exciting.A 3rd bonus track presents a gnarled & coarse remix of "Kugeln" by up-and-coming Hamburg producer Jem Circs.
Mastering by Sonic Boom (aka Pete Kember of Spacemen 3, Spectrum, EAR)! Artwork by Marc Richter (Black To Comm). Highly collectable vinyl-only release (no repress!) on a new format. Cut by Lupo at Calyx Mastering.
Alien Radio

:

Kugeln

Kugeln

Alien Radio

5' 49''

Wallerfangen

Alien Radio

6' 09''

Kugeln

(Remix by Jemh Circs)

Alien Radio

6' 33''
Nice as well: