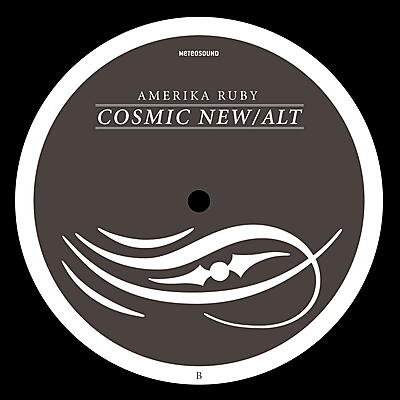 Amerika Ruby
Cosmic New/Alt
Meteo
meteo019 ep
the newcomer artist W YUKI (in love with mangas, wittgenstein, can and neu) comes from YOKOHAMA to deliver, under the pseudonym of AMERIKA RUBY, his new release: "COSMIC NEW/ALT". in this wonderful ep on meteosound, amerika ruby melts abstract electronic and dubnbeats, creating a new-blown (minimal) minimal sound, which is best described by the title itself as "COSMIC" MUSIC FROM JAPAN. besides, the title plays cleverly with the double meaning of "alt": short form for "alternative" and the german word for "old", in order to follow the fine contradictions and opposite touches that mark this brilliant crystal clear production.
the prototype track "ALT" is a 7 minutes burner: shuffling sounds and samples taken from classical music and combining them hypnotically in an abstract flitter, a hidden symphony connected to the ground by dub, electro sounds. the b side "COSMIC NEW" starts like a dancefloor track with a state of the art bassdrum sound, high, sharp and grooving. mr. yuki then, with the help of a massive bassline at the half of the track, breaks the arrangement to move into a halfbeat dub symphony ruled and based on this impressive bassline. bassdrum gently vanishes leaving only the groovy electro sounds and the bass come together in a intense, pulsing, delicious funk. final track "NORTHERN LIGHTS" closes the ep and reveals all his contests through a deep downbeat sound. the whole musical concept reaches an end and rises again in this track, like in the best tradition of classical pieces, to which this release constantly refers.

meteo 019 therefore, can be considered as an important element of meteosound«s intuitive idea of how dub productions should sound like. according to what the label made until now: exploring different territories like the dub-electronica of meteo/thiel or fenins productions, reaching the electric hip-hop of the syberian duo echo depth finders, passing through ferdinand fehlers and his innovative soul city music. watch this sound!
Amerika Ruby

:

Cosmic New/Alt

Cosmic New

Amerika Ruby

6' 17''

Northern Lights

Amerika Ruby

4' 51''
Nice as well: