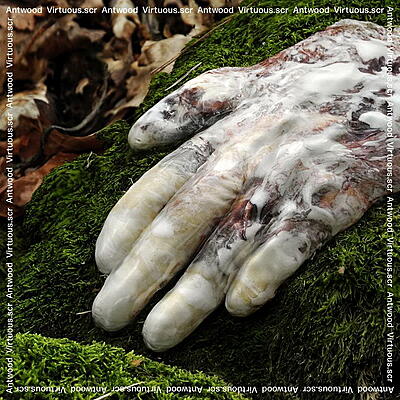 Antwood is the alias of Tristan Douglas - a Canadian whose releases so far have been on netlabels such as Cocobass and B.YRSLF Division, initially under the name argaret Antwood'.

These early recordings have picked up interest from curious seekers of new music, with excitement from Fact magazine and a mention in Vogue's best music of 2015.

Now picked up by Planet Mu for his first proper full-length, 'Virtuous.scr'. The music on this album feels very modern, but doesn't feel genre specific or even created by a human at times.

It has an obvious dark cartoonish cinematic feel to it that hints at computer game music and anime soundtracks, but it's as if the tracks are semi-autonomous beings evolving as part of a larger eco-system: the sounds are mechanical, things uncoil, whirr and stretch, strafe and crack around melodic segments, synthesised forms bouncing around the speakers, falling into melody and then out again, full of colour and drama.

Like all the best electronic music which isn't entirely melodic, the listener is able to put their imagination right at the centre of the work and can rest assured that the album will reward their attention.

'Virtuous.scr' is full of rhythmic ideas, evocative, textural sound design and also has an intriguing musical narrative.
Antwood

:

Virtuous.scr

a.l.i.c.i.a

Antwood

2' 16''

Anthracite

Antwood

5' 22''

Overlay Network

Antwood

3' 51''

Interlude Part II

Antwood

2' 13''

Spirit Fabric

Antwood

4' 30''

Prototype HA

Antwood

3' 51''

Realization

Antwood

3' 17''

65.222.202.53

Antwood

3' 25''

Uncanny Valley

Antwood

3' 33''

Yontoo How To Get Rid

Antwood

6' 05''
Nice as well: