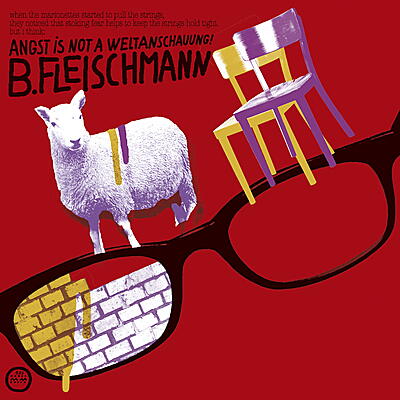 Angst Is Not A Weltanschauung
Morr Music
morr 085-cd
Incl. Instant Download
Being an old friend he maybe doesn't have to introduce himself any more. But Bernhard Fleischmann is too well-mannered not to. "Hello microphone, hello voice", that's what he lets "sweet william van ghost" sing right at the beginning, accompanied by a warm and yet cautious piano. He reveals a lot of himself, his voice as well, although he used to let good friends have the singing part in the past. Now, a good friend died. That's why Bernhard Fleischmann sang two songs himself on this – depending on the way of counting – fourth, fifth or even sixth album released by Morr Music. There are two Farewell-Songs, genuine and touching, that also shone the light of this record's way: Even more as "The Humbucking Coil" "Angst is not a Weltanschauung" has taken its way from sound- to song-writing. Still the sounds come tumbling out of the hard disk and one can hear fingers screwing on regulators. And yet these nine tracks are of a distinct corporeity and spatiality. For instance, when Marilies Jagsch or "sweet William an ghost" lend them their voices for two wonderful moments each.
The productive feedbacks between Vienna and Berlin, between Bernhard Fleischmann and Thomas Morr started with "Poploops for breakfast" nine years ago. With "Angst is not a Weltanschauung" Bernhard Fleischmann now arrived at a carefully set wooden table, arranged in a warm and glowing sunset. The aromas are darker and more wholeheartedly now. The groovebox of former times has vanished almost entirely – only within the congenial embrace of Bernhard Fleischmann's "phones & machine" ("The Humbucking Coil") and Daniel Johnston's "King Kong" it still can be traced.
"We had the luck, to build a castle, we filled it up with memories – and I would love to be sure that time will never take its keys", Bernhard Fleischmann sings in "even your glasses miss your eyes". These sounds won't pass by. They swing on to the next morning, stroll through the streets with us, drift as an echo from the houses' walls; sometimes as a slow dub, sometimes as an intimate ballad. And for one instance – "Playtime" – these sounds are tumbling and dancing as well.
B. Fleischmann

:

Angst Is Not A Weltanschauung

Hello

B. Fleischmann

2' 53''

24.12.

B. Fleischmann

3' 48''

Last Time We Met At A T&TT Concert

B. Fleischmann

6' 11''

In Trains

B. Fleischmann

3' 54''

Still See You Smile

B. Fleischmann

3' 41''

Phones, Machines And King Kong

B. Fleischmann

5' 44''

The Market

B. Fleischmann

5' 31''

Playtime

B. Fleischmann

8' 32''

Even Your Glasses Miss Your Eyes

B. Fleischmann

14' 37''
Nice as well: