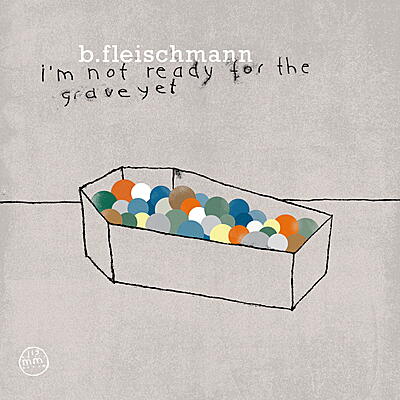 I'm Not Ready For The Grave Yet
Morr Music
morr 119-cd
Incl. Instant Download
Time is a great healer, they say, and it certainly can help heal some wounds, but what it also does – primarily, and constantly, perpetually – is run out, and the pace at which this is happening seems to accelerate whenever we try to hold on to those fleeting moments (of bliss? of serenity? of meaningfulness?), whenever we try to stop that river of time, to slow it down – like that nasty sizzurp drink apparently does, the one they prefer down in Houston. We're not cruising through Texas though, but find ourselves strolling about in good ol' Vienna: Here, a certain Bernhard (not that angry Exctinction guy), Bernhard Fleischmann that is, or rather b.fleischmann, is also dealing with some difficult topics such as mortality, ticking clocks, the elusiveness of all existence – and thus he also deals with "extinction", in a way. On his new album I'm Not Ready For The Grave Yet the Austrian multi-instrumentalist focuses more on the vocals, and for the first time he does all the singing himself (before he had album guests such as D. Johnston).
The transient nature of existence then, the fact that there seems to be less and less time to get to grips with things – "yesterday we thought/tomorrow we would/today we say/tomorrow we should", he sings on the forward bouncing "Tomorrow", a track about eternal postponement –, these are the topics that replace the sense of melancholia, a feeling that also characterized his most recent release, For M/mikro_kosmos (2011). Instead, this new album is an honest survey by a man who looks into the future, a man who's trying to translate the lemmings' suicidal longing for freedom into rather wild and yet more comprehensible instrumental terms, and who isn't afraid to pull the plug at the bottom of the river of time: "Who emptied the river?", he asks between pounding beats and rectangular guitar bits, followed by a line we get to hear more than once on this LP: "Don't follow me." Oh well: looks like we have to anyway. Follow him, all the way to the grave.
Accordingly, we get to follow a musician who's breaking new sonic ground with each track: at one point, he has a call & response conversation with a bunch of vocal samples, discovered on ancient language course LPs, with himself taking on various abstract characters from virtues to mortal sins. However strained the eyes are when dealing with the messy state of global affairs, it's nevertheless comforting to see Mr. Fleischmann realize that sounding like Bono and Sting isn't an option either (and that's probably why the record ends with this track).
Whereas this new album is generally more about beats, rhythms, percussive elements and pushing things onward, resulting in a vibe that feels rather rough around the edges, there are also mellower tracks such as "At Night The Fox Comes" – which makes for just the right balance between sonic experiment and proper song structures.
Of course we all know that one day we'll have to make our last exit. Yet, as time moves forward, these songs don't lose any of their beauty. They defy the unavoidable, they keep warning us ("Don't follow me."), and they also proclaim: "Today we say/tomorrow we could/(meet for dinner)." And meeting for dinner usually means plenty of laughter as well.
B. Fleischmann

:

I'm Not Ready For The Grave Yet

Don't Follow

B. Fleischmann

4' 17''

Tomorrow

B. Fleischmann

4' 32''

Beat Us

B. Fleischmann

3' 48''

Lemminge

B. Fleischmann

5' 11''

Who Emptied The River

B. Fleischmann

5' 00''

I Am Not Ready For The Grave Yet

B. Fleischmann

4' 59''

This Bar

B. Fleischmann

3' 16''

Some/Others/My Husband

B. Fleischmann

5' 05''

At Night The Fox Comes

B. Fleischmann

4' 31''

Your Bible Is Printed On Dollars

B. Fleischmann

4' 03''
Nice as well: