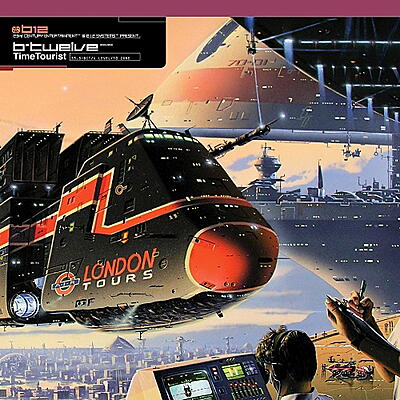 2LP: Includes download, 8pp booklet, A5 sticker. DL incl.4 unreleased tracks
On 16 November Warp will release a new edition of the second B12 album, originally released in 1996. Time Tourist continued the sleek, Detroit-inspired sci-fi techno moves of their Electro-Soma era, but tied the tracks to a playful concept in which the tracks are presented as an educational soundtrack designed by the 22nd-century company "B12 Systems". Housed in an evocative Designer's Republic sleeve based on a classic Trevor Webb airbrush painting, the sleeve notes riff on a dystopian future society looking back at the primitive past and includes references to such genre touchstones as Blade Runner, Philip K. Dick and Star Wars.

For the new vinyl edition the original "B12 technology times" sleevenote has been re-designed as a standalone booklet insert, and there is an A5 sticker sheet of future corporate logos from the Time Tourist universe. The download card includes 4 previously unheard alternate versions of tracks from the album. The CD includes 4 bonus tracks and comes housed in an outer slipcase. Bleep will be selling an exclusive hand-stamped white label 12" of the 4 lost tracks.
B12

:

Time Tourist

Infinite Lites

(Primitives Mix)

B12

2' 00''

The Silicone Garden

B12

2' 00''

The Radiophonic Workshop

B12

2' 00''
Nice as well: