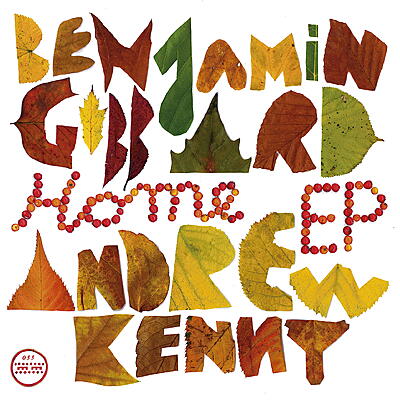 Benjamin Gibbard & Andrew Kenny
Home Ep
Morr Music
morr 055-cdep
After more than 50 releases, it is time for Morr Music's first licensed record. Yes, we have more love than for our artists only. Thus, this release here is also a document of our being fans, because ever since the "Home EP Vol. 5" had been released on the US label Post-Parlo at the beginning of 2003, it has a safe and warm place in the upper regions of our office charts.
The idea behind the "Home" series is simple, clear and good: Take two artists, ask each for three exclusive songs and a cover version of one of the other's song. For their fifth edition of this series Post-Parlo were able to get Ben Gibbard (Death Cab For Cutie/The Postal Service) and Andrew Kenny (American Analog Set) on board. They prove that reduced singer-/songwriting (both only need their voice and an acoustic guitar) does not necessarily have to deal with whining self-indulgence or with the tyranny of songs about the absent (ex-)girlfriend. Instead, Gibbard and Kenny both succeed in approaching the subject of this ep's title with subtlety: Home. After all, this is the place both are longing for most of the time, as they are constantly on the road with their respective bands. So it just fits nicely, that all of these songs have been recorded on fourtrack in the artisits' living rooms in New York and Seattle.
Considering the minimalist approach of this record as well as the simplified recording process, it clearly shows, that both Gibbard's and Kenny's songwriting are only fractures of the same thing, meaning they're closer musically, than the sound of their bands might initially suggest. The choice of their covers - Ben Gibbard plays American Analog Set's "Choir Vandals", Andrew Kenny interprets "Line Of Best Fit" by Death Cab - can only stress their close connection.
This record being re-released on Morr Music is also a sign of a collaboration initiated by Styrofoam, becoming more and more apparent now. It all started a few years back when Styrofoam did remixes for American Analog Set's "Updates EP" on Tiger Style Records. He also did a beautiful picture-split-7" on Rocket Racer with Dntel aka Jimmy Tamborello, who runs The Postal Service with Ben Gibbard. Gibbard and Kenny both have contributed to Styrofoam's album "Nothing's Lost" at the end of 2004 and at the beginning of 2005, Sub Pop will release something new by The Postal Service, featuring a Styrofoam-Remix as well.
Benjamin Gibbard & Andrew Kenny

:

Home Ep

You Remind Me Of Home

Benjamin Gibbard

2' 16''

Carolina

Benjamin Gibbard

2' 26''

Farmer Chords

Benjamin Gibbard

2' 26''

Choir Vandals

Benjamin Gibbard

2' 35''

Hometown Fantasy

Andrew Kenny

1' 53''

Secrets Of The Heart

Andrew Kenny

2' 15''

Church Mouse In The Church House

Andrew Kenny

4' 43''

Line Of Best Fit

Andrew Kenny

5' 00''
Nice as well: