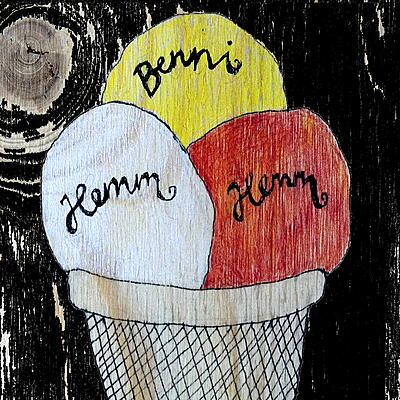 Incl. Instant Download
Music from the heart. From an island called Iceland. A record that wants to boil over because of all its energy, lust and sometimes also funniness. A record, equally peculiar as idiosyncratic. As the pot is that huge 26-year-old Benni Hemm Hemm throws all possible ingredients in. And it is that peculiar as all the different ingredients do not spoil the paste in the end. It's a little big band with little big songs. The greatest of them takes only 2 minutes and 58 seconds: "Beygja Og Beygja".
To name all the different influences of the record would be similarly pointless as necessary: First there is this austere, shining sound of the Icelandic language ("Til Eru Fræ"). There is further the likeable pureness of three accords, of the direct folk-song "I can love you in a wheelchair, Baby"), there is the prairie's melancholy, the howling steel-guitar ("Fight"). And there is finally the overwhelming joy of playing of so called Balkan-Folk. It is said that the latter shall not be that different to some traditional songs from Iceland. There is the emphatic brass section of Northern Soul. And, last but not least, there is a Benni Hemm Hemm who holds all that together, who once is the inward, suffering man, the passionate narrator, and then the crafty entertainer. There are real, honest love-songs on this album. And there are songs one simply has to love.
The tracks of this album were written during a stay in Italy lasting several months. Maybe it was this new, distanced perspective on usual correlations and interrelations has contributed to the casual complexity of this debut-album. A debut-album, by the way, that was awarded as the best album of the island state on the occasion of the Icelandic Music Awards. Besides, Benni Hemm Hemm and his band were elected as the best newcomer. In September 2005 the record was released on the small label Smákökurnar, based in the Icelandic capital Reykjavik for a first time.
Now it is re-released on Sound of a Handshake, Morr Music's small, curious sister. A new home for an album that will grow with each time one listens to it. Equally as Benni Hemm Hemm's band changes with each concert. In the centre there is Benni with his fervour, a mischievous smile, his acoustic guitar and his arrangements. Around him there are guitars, glockenspiel and the brass section. Around him there are raging waves and a deep, pure sea. You should listen to this record loudly. And often, but you will find that out by yourself anyway.
Benni Hemm Hemm

:

Benni Hemm Hemm

Beginning End

Benni Hemm Hemm

2' 24''

Beygja Og Beygja

Benni Hemm Hemm

2' 57''

The Doomed, The Damned

Benni Hemm Hemm

4' 01''

Fight

Benni Hemm Hemm

3' 28''

I Can Love You In A Wheelchair Baby

Benni Hemm Hemm

2' 18''

Ku-u-i-po

Benni Hemm Hemm

2' 50''

Labbi

Benni Hemm Hemm

1' 44''

Sumarnótt

Benni Hemm Hemm

2' 57''

Til Eru Frae

Benni Hemm Hemm

3' 52''

Gít Stemm

Benni Hemm Hemm

2' 28''

Sweaty In The Sunshine

Benni Hemm Hemm

2' 55''

Beginning End

(Outro)

Benni Hemm Hemm

2' 24''
Nice as well: