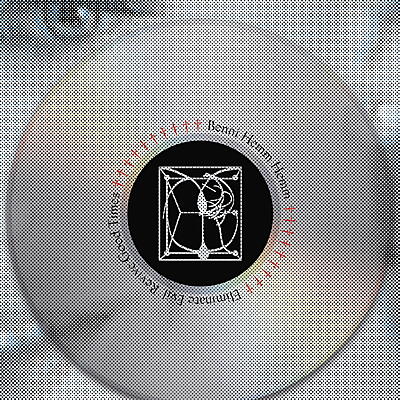 Benni Hemm Hemm
Eliminate Evil, Revive Good Times
BHH
BHH01
CD: Ltd. CD incl. little 4.3"x2.6" book and "band-member-cards"
Incl. Instant Download
It´s ten years since Benni Hemm Hemm released his first EP - and now he´s ready for an all English record, recorded in Glasgow, Scotland with local musicians. Eliminate Evil, Revive Good Times is the band´s fifth album and contains 14 songs that are so dark you almost can´t see them. But there´s a faint sign of hope at the end of the tunnel, with bright voices and piercing brass.

The cover artwork is a unique piece of design, by graphic designer Arnar Freyr, visual artist Huginn Þór Arason, and Benedikt H. Hermannsson.
Benni Hemm Hemm

:

Eliminate Evil, Revive Good Times

Take Your Book

Benni Hemm Hemm

3' 48''

Beat Me Until You Are Tired

Benni Hemm Hemm

2' 23''

Rise, Rise, Rise

Benni Hemm Hemm

3' 35''

I Am Free

Benni Hemm Hemm

4' 59''

Síam

Benni Hemm Hemm

4' 00''

Lucano And Ramona

Benni Hemm Hemm

4' 28''

The Mask of Anarchy

Benni Hemm Hemm

6' 59''

You´ll Get Lost Again

Benni Hemm Hemm

2' 05''

Build A Wall

Benni Hemm Hemm

2' 05''

Bright Air And Magical Life

Benni Hemm Hemm

3' 13''

Don´t Forget The Northern Morning Light

Benni Hemm Hemm

4' 38''

Darkness

Benni Hemm Hemm

6' 04''

Birds Like Smoke Rise

Benni Hemm Hemm

2' 52''

Eliminate Evil, Revive Good Times

Benni Hemm Hemm

4' 48''
Nice as well: