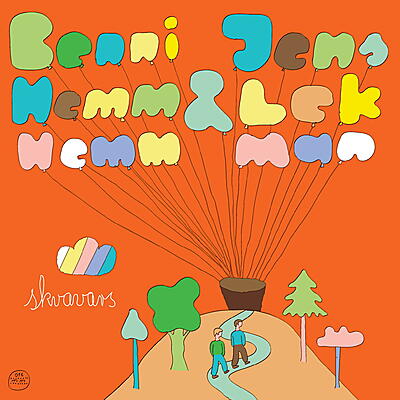 Incl. Instant Download
A short Hello from being on the road. An acoustic postcard. One track tells of travelling, the other one tells of the people one meets on one's way. In this case it tells of Jens Lekman, the Swede with the charming hymns. Songs that accompany you for a long time after having listened to them. By which we talk of travelling again. The first self-titled album by Benedikt H. Hermannsson, aka Benni Hemm Hemm was on its way, too, in 2005, written in Italy.
Actually, Benni Hemm Hemm recorded "Skavars" for his just released album "Kajak". It is also included on the album's CD-version. A drifting, a continuous surge. The Icelandic stretch of coast may sound like that. The wind murmurs the instruments around your ears. Voices are whirling through the air.
The idea of this alernative version of "Aldrei" was born at the Airwaves Festival in Benni Hemm Hemm's hometown Reykjavík, where he as well as some other members of his band accompanied Jens Lekman for one track on stage. The day after they recorded "Aldrei" together with Gunnar Örn Tynes from múm - whose song "There's a number of small things" gave its name to this 7inch series. Guitar, tiny guitar, trumpet, cornet and piano. Jens Lekman sings in Icelandic. Benni Hemm Hemm does so, too, but that is no big news.
Benni Hemm Hemm

:

Skvavars/ Aldrei (feat. Jens Lekman)

Skvavars

(Single Version)

Benni Hemm Hemm

3' 44''

Aldrei

(Featuring Jens Lekman)

Benni Hemm Hemm

3' 57''
Nice as well: