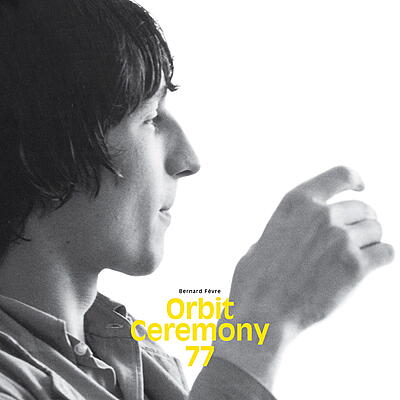 LP: Includes download, 180gr "mustard" colored Vinyl
Lost LP from 1977, rebuilt from original tapes, by the creator of BLACK DEVIL DISCO CLUB. BERNARD FEVRE, the French electronic music pioneer behind Black Devil Disco Club, released three seminal library albums in the seventies: Suspense (1975), Cosmos 2043 (1977) and The Strange World of Bernard Fevre (1977). A fourth album called Orbit Ceremony, produced just a few months after remained in his home studio and never saw the light; sentenced to almost 40 years in the devil's vault. By chance, while working on the reissues, Bernard Fevre recently found the original lost tapes of Orbit Ceremony, including the multi-tracks, which he remixed and remastered himself. Spacy moogs, weird clavinet, and cosmic analog drum machines: it's all here. The quirky, cosmic library music found on this long-deleted '70s science-fiction-themed album if full of burbling synths and off-kilter melodies. There's only one man on this planet able to produce such a crazy sound. As soon as you press play you know you've embarked on a special and unique 'back to the future' trip. Don't worry, fasten your seat belt and relax. Captain Fevre is taking care of everything.

Lovingly presented by Medical Records for North America on high quality 180-gram "mustard" colored vinyl. Includes download card. Limited Edition.
Bernard Fevre

:

Orbit Ceremony 77

That Is To Be

Bernard Fevre

3' 56''

Foxy Spleen

Bernard Fevre

2' 54''

Max Stroke

Bernard Fevre

2' 04''

Mestophiles

Bernard Fevre

3' 00''

Nebulous Melody

Bernard Fevre

2' 41''

Not Be Wary

Bernard Fevre

2' 23''

Out Of Dark

Bernard Fevre

3' 38''

Paste Merge

Bernard Fevre

2' 35''

Raw Beat

Bernard Fevre

2' 03''

Space Angle

Bernard Fevre

2' 41''

Testmaker

Bernard Fevre

3' 02''
Nice as well: