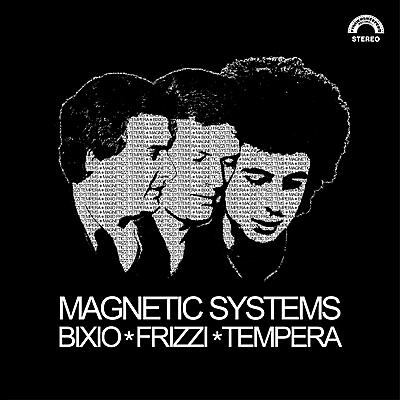 LP: Special Silver Foil Cover Artwork
From the same vibrant cinematic landscape of 70s studio supergroups as Goblin, The Pawnshop, The Group and The Braen's Machine comes The Magnetic System – the Italian incognito dream team comprised of Milano prog keyboardist Vince Tempera and Cinevox sibling Franco Bixio and launched the career of Video Nasty maestro Fabio Frizzi. Bridging the void between Giallo jazz bass driven prog and the arrival of home studios and synthesisers, the omnipresent film music of The Magnetic System marked a sea change in Italian genre film music, promoting melodic electronics to the forefront of Italian pop culture and pre-empting the first murmurs of Italo disco and synth-pop. Sharing session musicians, studios and release schedules with many of the aforementioned luminaries, Bixio, Frizzi and Tempera's magnetic powers continue to attract musicians and aficionados of discerning sight and sound.

Masterminded in the mid-70s at the apex of Italian film music's most exciting transitional period, The Magnetic System was created to encapsulate the combined efforts of three of the country's most prolific and adventurous soundtrack composers in an attempt to retarget their lauded behind-the-scenes personas towards the Italian commercial instrumental pop market. In the early 1970s with a climate that nurtured instrumental rock such as the work of Franco Battiato, Sensation's Fix and Le Orme, the soundtrack specialist label Cinevox (founded by Cesare Andrea Bixio) identified opportunities within their roster and pressed up a string of non-cinematic psychsploitation bands like The Motowns and Cherry Five, finally finding chart success with the rebranded writing team known as Goblin. By 1977 the unison and group christening of Franco Bixio, Fabio Frizzi and Vincenzo Tempera aka The Magnetic System would join a list of retitled outfits like The Pawnshop (featuring Allesandro Allesandroni, Giuliano Sorgini and Giulia De Mutiis), The Braen's Machine (featuring Allesandroni and Rino De Filipi) and The Group (a drum-heavy version of Morricone's Gruppo di Improvvisazione di Nuova Consonanza), all of whom took brief hiatuses from their soundtrack and library music day jobs to throw overqualified prog pop on the commercial craps table. The unfortunate low demand for these ambitious unchartered excursions resulted in small runs, which (with time as a healer) would cause future record collectors to salivate - the one and only 7" single by The Magnetic System being no exception to this phenomenon. Also experimenting under further alter egos such as the Day-Glo Fruit Of The Gum and the Spaghetti Western-cum-disco Benjamin Franklyn Band, the group's third moniker The Magnetic System specifically showcased the trio's more aggressive, brooding and heavier sound in comparison to its sister groups. This compilation gathers a wider selection of the trio's compositions that fall within the stylistic parameters of The Magnetic System's creative blueprint; culling drum-heavy synthesised psychedelic soundtracks with sympathetic leanings to the white funk/cosmic disco murmurings of the era.
Bixio, Frizzi, Tempera

:

Magnetic Systems

Allucinazioni Mistiche

Bixio, Frizzi, Tempera

30''

Escape

(7 version)

Bixio, Frizzi, Tempera

30''

Death's Song

Bixio, Frizzi, Tempera

30''

Facce Violente

Bixio, Frizzi, Tempera

30''

Attesa Insopportabile

Bixio, Frizzi, Tempera

30''

Chaco

Bixio, Frizzi, Tempera

30''

Vai Gorilla

Bixio, Frizzi, Tempera

30''

Night Club Dance

Bixio, Frizzi, Tempera

21''

Sette Note In Nero

Bixio, Frizzi, Tempera

30''

Electronic Sound

(excerpt)

Bixio, Frizzi, Tempera

30''

Avangiu

Bixio, Frizzi, Tempera

30''

Godzilla

Bixio, Frizzi, Tempera

30''

The Hunt Down

Bixio, Frizzi, Tempera

30''

Concession Naturali

Bixio, Frizzi, Tempera

30''

Escape

(Film Version)

Bixio, Frizzi, Tempera

30''
Nice as well: