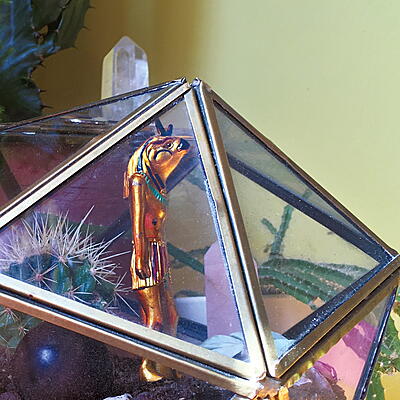 French freq, Max P aka Black Zone Myth Chant, presents the project's most adventurous and urgent despatch yet, dosing with the unfathomably layered and immersive Feng Shen for Low Jack's Editions Gravats. What was initially intended as a one-away project has now morphed into something powerfully undefinable and strangely affective over the course of two albums, Straight Cassette and Mane Thecel Phares, an EP and a mixtape, realising something of a butterfly effect feedback between the gestures of his strangely formed objects and their dilated reception by listeners around the world.

For Feng Shen the artist gleaned inspiration from the struggles of the Sioux people, and their conscientious allies, against the construction of the Dakota Access Pipeline (DAPL) in the United States in 2016, It's an issue that resonated most with his music and the particular lines of philosophy he was reading before recording, particularly Axel Honneth's reading of Frankfurt School leader, Max Horkheimer, asserting that: "The knowing subject and the object are mutually determined from the beginning by the social process of the cultivation of nature, the product of which is the history of the species as a whole."

In this sense, Black Zone Myth Chant uses his music on Feng Shen - meaning Wind Spirit - as a means to model methods of resolution between the physical and the spiritual, or opposing world views. Over the course of eight tracks he renders a phenomenal space where he can best describe the paradoxical, impossible physics of a psychedelic soul, by toying with the listener's gauge of anticipation, perspective and temporality with a poetic clash of ideas lent from chopped & screwed hip hop, deep space new age electronics, and liminal club musics.

It's music which exists in two states at once, driving yet floating, as with the pull and push of pitched down voices and rolling rhythms in Their Love For You, or with impenetrable density of clarity in the layered dimensions of Kubara, following a line that binds kosmische and dancehall in Under Protest/Telos, to the polymetric harmonic swirl of War Paint (DAPL Resistance), and connects the heat-seeking techno impulses of Ideas In Action, to the centre-less ambient panorama of Feng Jing.
Black Zone Myth Chant

:

Feng Shen

Their Love For You

Black Zone Myth Chant

5' 15''

Kubara

Black Zone Myth Chant

5' 54''

Under Protest

Black Zone Myth Chant

5' 17''

Spiritual Decay Dub

Black Zone Myth Chant

5' 14''

War Paint

(DAPL Resistance)

Black Zone Myth Chant

8' 03''

Radio Romantica

Black Zone Myth Chant

3' 13''

Ideas In Action

Black Zone Myth Chant

4' 24''

Feng Jing

Black Zone Myth Chant

4' 08''
Nice as well: