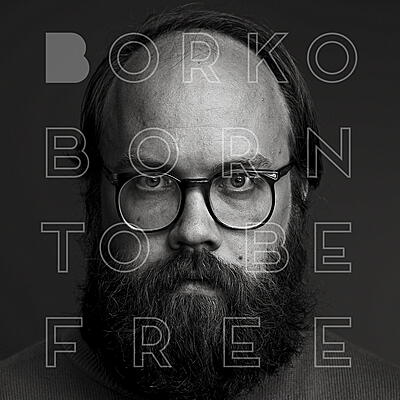 Incl. Instant Download
He has the beard of a freedom fighter and the battlefield is our hearts. Even since long before his debut album Celebrating Life was released in 2008, Borko has been one of the most influential stalwarts in Reykjavík's boiling music scene. He has been a key member of many Icelandic bands (Rúnk, FM Belfast, Skakkamanage, to name a few) but it is in his own music that he really emerges from the undercurrent with his distinctively personal brand of expressive pop music.
The nature of this particular beast lies in Borko's keen sense of melodic sensibility, but what set's it apart from the pack is the infectious charm, which is something anyone who has ever seen him play live can attest to. Borko has toured the world with both múm and Seabear and is known for his warm hearted and downright neighborly stage presence.
His newest handiwork is Born to be Free, an LP which is released by Kimi Records and Sound of a Handshake on the 16th of October, offers everything we could ask of Borko. This album manages to be both calm and complex at the same time with out having to tread any thin line. And the flora is colorful. Songs like the title song and The Final Round are an energetic comment on urban life, while the final song Sing to the World is a universal anthem. There is a sense of charismatic vibrancy which juxtaposes perfectly with the intricate nature of Borko's carefully crafted music. Simply by putting the needle to this album the battle is already half won.
Borko

:

Born to be Free

Born to Be Free

Borko

4' 28''

Hold Me Now

Borko

3' 38''

Abandoned in the Valley of Knives

Borko

5' 41''

Waking Up to Be

Borko

6' 22''

The Final Round

Borko

3' 52''

Sing to the World

Borko

7' 17''
Nice as well: