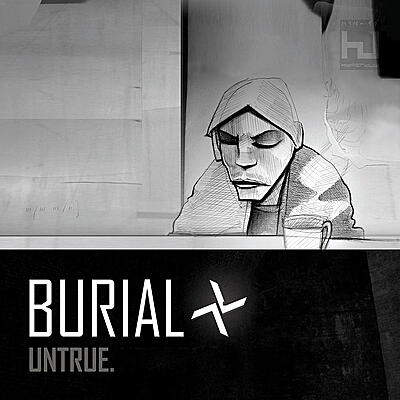 2LP: Includes download, 2016 edition includes also the ambient tracks, 180gr vinyl
Untrue is the second studio album by British electronic music producer Burial. Released through Hyperdub, the album was produced by Burial from 2006 to 2007 using digital audio editing software. Whilst retaining several elements of his previous work, Untrue marked a development in Burial's sound through its utilisation of pitch-shifted and time-stretched vocal samples in several of its tracks. The album also contains influences of Burial's own musical tastes, most notably the UK garage and hardcore music genres.

The album received rave reviews from music critics, who commended Burial's production and significant use of samples to create a unique atmosphere. Untrue later appeared in several publications' lists of the year's best albums and received nominations for the Mercury Prize and the Shortlist Music Prize. It charted at numbers 57 and 58 in Belgium and the United Kingdom respectively and produced two singles, "Archangel" and "Ghost Hardware". Since its release, Untrue has been viewed as a landmark album in the dubstep genre.
Burial

:

Untrue

Ghost Hardware

Burial

4' 53''

Etched Headplate

Burial

5' 00''

In McDonalds

Burial

2' 07''

Shell Of Light

Burial

4' 40''

Dog Shelter

Burial

2' 59''
Nice as well: