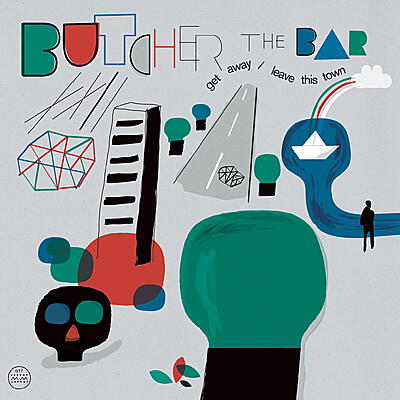 Incl. Instant Download
Butcher the Bar is the 22 year-old Joel Nicholson, who currently resides in Rotherham in the north of England. It's his acoustic guitar and a couple of instruments he acquired over the years from flea markets and car boot sales, such as a banjo, a melodica, and an accordioline. Well, some instruments he received from friends and girlfriends. He then bought an eight track, and started to record songs on his own after some unremarkable times playing in a handful of bands in his college years. Becoming a solo artist, he's more than remarkable. As a songwriter playing precise with the aesthetics of emphasis, melancholy and reduction.
"Getaway" is a melancholic goodbye to a town in mind and heart, a disillusioned remembering of a city fading away while living in it. Lincoln, 40 Miles east of Sheffield, is this specific town addressed in this song. But at least everyone knows such a place. "This used to be a good place", is the echo of the song.
"Leave Town" is as minimal and as maximal as a pop song could be. A guitar, a banjo and the warm and near voice of Joel Nicholson. An intimate poem with the knowledge of folk and post folk, of Bob Dylan, Sulfjan Stevens and - at least - of Joel Nicholson himself, and his own narrative strength.
Butcher the Bar

:

Get Away/ Leave This Town

Get Away

Butcher the Bar

3' 22''

Leave This Town

Butcher the Bar

3' 07''
Nice as well: