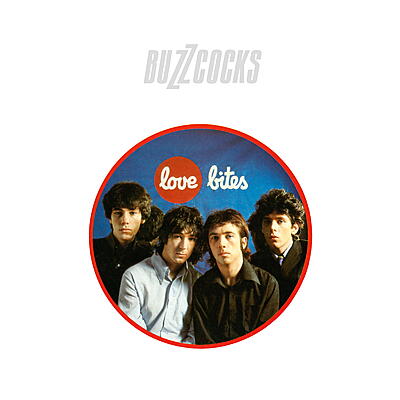 LP: Includes download, 180 gr vinyl, 8-page booklet, remastered
1978 studio album, 2019 reissue. "Love Bites" was the Buzzcocks 2nd strudio album, arriving just 6 months after 'Another Music In A Different Kitchen'.

Lovingly restored and re-mastered from the original tapes for the first time and packaged in the original Malcolm Garrett designed sleeve with lavish 8-page booklet containing unseen images and extensive liner notes by famed writer, broadcaster, music journalist and cultural commentator Jon Savage. Faithful to their original track-listings, the re-issue sees the album released on vinyl for the first time in many years.
Buzzcocks

:

Love Bites

Real World

Buzzcocks

2' 00''

Ever Fallen in Love

(With Someone You Shouldn't've)

Buzzcocks

2' 00''

Operators Manual

Buzzcocks

2' 00''

Nostalgia

Buzzcocks

2' 00''

Just Lust

Buzzcocks

2' 00''

Sixteen Again

Buzzcocks

2' 00''

Walking Distance

Buzzcocks

2' 01''

Love Is Lies

Buzzcocks

2' 00''

Nothing Left

Buzzcocks

2' 00''

Late For The Train

Buzzcocks

2' 00''
Nice as well: