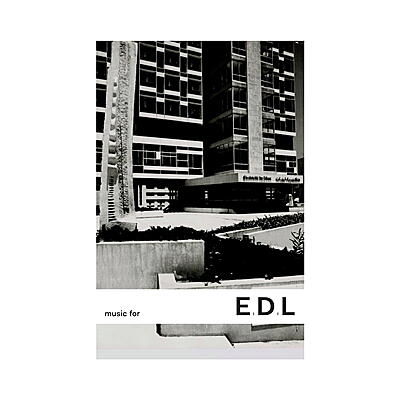 C. Blumberg
Music For E.D.L
EDL
CB01MC
MC: Includes download, edition of 75 copies
Droning (sub-)bass tones (use headphones!) and noises, reminiscent to early electronic music (and it's modernist agenda) meet slightly detuned soundscapes, which seem to be taken from an old, pitched-down rave-track.

Recorded live & arranged to a 11-minute piece for this release, 'Music for E.D.L' was originally made as a soundtrack for a video work by Siska, a visual artist operating from Berlin and Beirut. E.D.L. is a film essay on Lebanon's 'National Electricity Building', built in the 1930's by Pierre Neema. The film is a homage to a once modernist project linked to the very construction of Lebanon's modern state. It was screened on several exhibitions (f.e. at centre 104 (Paris), I.C.S.P. (New York City), Mosaic Rooms (London) & Ashkal Alwan (Beirut) and within film festivals, such as the 'Rencontres International' (Berlin, Paris, Madrid) or 'Rotterdam Film Festival'.

Edition of 75, self-released.
Mastered by Felix-Florian Tödtloff at Ætherweight, Berlin.
C. Blumberg

:

Music For E.D.L

edl excerpt 1

C. Blumberg

56''

edl excerpt 2

C. Blumberg

41''

edl excerpt 3

C. Blumberg

1' 22''
Nice as well: