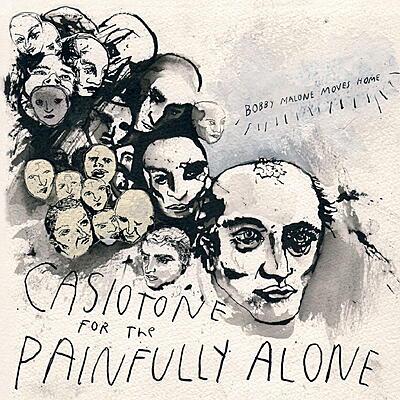 Bobby Malone Moves Home
Tomlab
Tom074
Please note: the 7 inch has only one B-Side

Hi, this is Owen Ashworth from Casiotone for the Painfully Alone. I am writing to tell you about the second single from my most recent album, "Etiquette". The song is called Bobby Malone Moves Home and it's a lot different than the last single, which was called "Young Shields." Bobby Malone Moves Home kind of sounds like classic rock to me, and it's probably the one song from "Etiquette" that I'm most proud of. Instead of the usual electronic sounds that you're probably used to hearing in my songs, Bobby Malone Moves Home was recorded with a full live band at Pan American Recording Studio in San Francisco, CA. I played the piano and sang the song, and Jason Quever and Alex deLanda from The Papercuts played the drums and bass, respectively. Mo Lioce, who plays in a band called Hola Chica out in New York, just happened to be in town visiting her folks, and she was nice enough to come over and record a couple of tracks of cello. Bobby Malone Moves Home is my Mom's favorite track from Etiquette, and generally seems to be the one that makes people cry. It's a good song! That's why we made it a single.

The B-sides for this single were recorded on my last US tour with my friends The Donkeys from San Diego playing as the backing band. The 7" single's b-side is a new, country version of "Jeane, If You're Ever In Portland," recorded on the very last day of our tour for a Daytrotter session in Rock Island, IL. The CD version of the single has four live tracks from our show in Rochester, NY, which were originally recorded for Universal Buzz Radio.

You might be surprised by how the live versions of old songs sound here. The Donkeys added drums, guitar, bass and electric piano (One handed, even! Anthony broke his wrist doing a skateboard trick the day before we left on tour), and my songs just blossomed like little flowers with their help. After a month of shows together, the new songs sounded more full and exciting than I ever imagined they could, and the old songs sounded brand new again. I've never had more fun playing live, and it means a lot to me to be able to share these special new versions of old songs for this single. Anthony Lukens from The Donkeys also made the great cover art, by the way. Oh, and his wrist healed beautifully and he's backing to playing piano with both hands these days.
Casiotone For The Painfully Alone

:

Bobby Malone Moves Home

Bobby Malone Moves Home

(Single Edit)

Casiotone For The Painfully Alone

40''

Jeane, If You're Ever In Portland

Casiotone For The Painfully Alone

40''

Tonight Was A Desaster

Casiotone For The Painfully Alone

40''

It Wasn't The Same Somehow

Casiotone For The Painfully Alone

40''

Bobby Malone Moves Home

Casiotone For The Painfully Alone

40''
Nice as well: