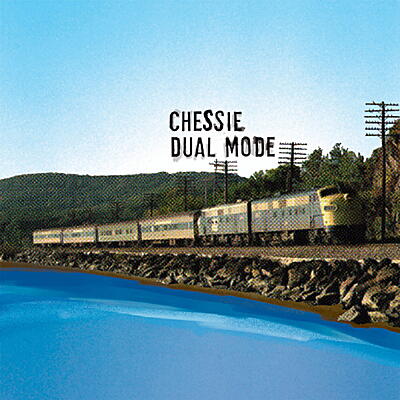 Incl. Instant Download
It is no secret that we here at lok musik love railways. So, imagine how excited we are to bring you a new release by Chessie, the US-based duo that has been making beautiful, compelling music inspired by railways for over 10 years! Chessie is one of the pioneers of the--now ubiquitous--pairing of experimental electronics and contemplative song-craft. Their timeless tracks, which have always transcended genre and fashion, never fail to draw attention and accolades.
Stephen Gardner started Chessie in 1993, while he was still a member of Lorelei, the Washington, D.C. post-rock forerunners. Gardner's then side project pushed past the boundaries of "indie", combining guitars and post-rock sensibilities with the timbres, sonic palette, and production techniques of experimental electro-acoustic music. Chessie's three full-length releases, on the Drop Beat and Plug Research imprints, have been genre-defining works. Marked by off-kilter rhythms, dense textures, and a haunting harmonic core, Chessie's music has been the blueprint for the work of countless other artists.
In 2000, Ben Bailes joined Chessie, and from that time he and Gardner have worked as a duo. The two producers share compositional and production duties at their System Studio in Washington, DC. The Dual Mode EP represents Chessie's first new release since 2001's acclaimed Overnight LP/CD, dubbed "one the 10 best obscure albums of 2001" by The New York Times.
Dual Mode shows Chessie at the top of their form and features exclusive remixes of some of Overnight's stand out tracks. The EP begins with "Velvet", a spare, cinematic composition that showcases Chessie's magical ability to invoke both complexity and simplicity simultaneously. Next up is fellow Plug Researcher, Dntel (of The Postal Service fame), with a lush and triumphant remix of Overnight's "Eyes and Smiles". San Francisco's tech-house champion, Sutekh, follows with an explosive remix of "Daylight". The 12" closes with "The Century", Chessie's nod to their indie roots; a track that makes you wonder if the guys shouldn't start a side project making radio-hits. On the CD version of the EP, a meditative and pastoral remix of Overnight's "K Tower" by New York's Basidium brings this brilliant set of recordings to a close.
Chessie

:

Dual Mode

Eyes And Smiles

(Dntel Rmx)

Chessie

3' 56''

Daylight

(Sutekh Rmx)

Chessie

6' 22''

The Century

Chessie

3' 28''
Nice as well: