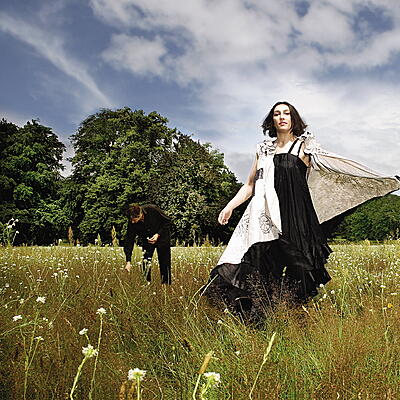 Incl. Instant Download
Following their debut album 42 Mädchen in 2003, Chica & the Folder aka Paula Schopf and Max Loderbauer have now recorded a delightful new album for monika enterprise. As part of Gudrun Gut's Ocean Club collective, Chica Paula is a gifted DJ with frequent gigs on the Berlin club scene as well as at partys and festivals further afield, while Max Loderbauer is also one half of pioneering Berlin electronic duo Sun Electric, now working with Ari Benjamin Meyers Redux Orchestra as well as NSI (soon on Sähko) with Tobías Freund. Together they create glorious emotionally charged pop music which carries a simple, timeless message.
Chica Paula's work as a DJ has clearly flowed into several tracks with danceable acid grooves and electro influences coming through heavily. Other songs, such as Dias Amarillos, with its quirky steel-drums and slap bass have a very tounge-in-cheek sense of humour to them.
While all music is composed and recorded by Chica & the Folder as a duo, they were joined, on Perfect Day for instance, by a choir made up of a whole host of their friends. And the vocal sample on opening track Huerfanos is the voice of a newspaper seller on one of the main streets in Santiago de Chile. Oh, and Chica's daughter Romina can be heard screaming for more beats on the tune Dancing Been.
Most of the album has been masterfully mixed by Tobias Freund aka Sieg Über die Sonne aka NSI aka Phobia, and he even played 808 drum machine on a few tracks. Chica Paula does all the lyrics herself, singing in english, german and her native spanish. One exception to this being the vocoded voice on Angelus Novus - this text is taken from the Chilean poet Nicanor Parra, and Chica's countryman Ricardo Villalobos is remixing the tune for a 12" on monika to go with the album.
Chica & the Folder really can't be pigeonholed. The album takes in so many styles from electro (Happy), via oriental (Souffle), to ambient (Monte Rosa) and beyond, that it is pretty much impossible to categorise the Chica & the Folder sound. There are even world music influenced moments, on All Inclusive., but it's not long before the tune breaks into dark electronica.
Their music is truly eclectic which makes them all the more accessable as there is something for every listener no matter what your taste. All in all the album is a very happy affair with an added dash of romanticism and melancholy folklore. It's poppy but without being superficial: a clear statement about the start of the century.
Chica and the Folder

:

Under the Balcony

Huerfanos

Chica and the Folder

3' 27''

Sometimes

Chica and the Folder

5' 50''

All Inclusive

Chica and the Folder

3' 26''

Dancing Been

Chica and the Folder

7' 07''

Desde El Balcon

Chica and the Folder

3' 38''

Angelus Novus

Chica and the Folder

6' 31''

Sacrificio

Chica and the Folder

2' 36''

Dias Amarillos

Chica and the Folder

2' 42''

Soufflé

Chica and the Folder

5' 17''

Monte Rosa

Chica and the Folder

3' 58''

Happy

Chica and the Folder

3' 12''

Fest Der Grillen

Chica and the Folder

3' 54''
Nice as well: