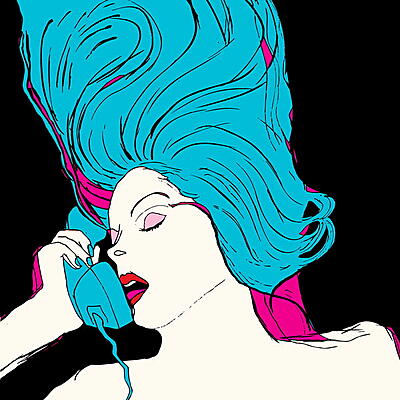 2LP: Gatefold sleeve, incl. inserts, 180 gram "pink champagne" colored vinyl
The ever-popular Night Drive release, now expanded to fifteen tracks. The lost side of the album is dark and abstract. Opening with the almost funerial "Shining Violence." Where detuned analog synths collide & struggle to hang onto a fading melody. Followed by the sleeper hit, "Circled Sun," and the Vangelis inspired reflection of life's duality in "The Gemini." Looking into a broken mirror, RUTH is more vulnerable than ever with the bare bones bass & vocal of "Bell." "Night Drive" closes with an arpeggiated musical refrain from the beginning of Side One. "Acelerator" reinterprates elements of "Night Drive's" chord progression while leaning heavily on the gear shift. As painted lines in the road begin to strobe, Chromatics propels full speed ahead into an uncertain future. Packaged in gatefold jackets with two lyric sheet inserts. Pressed on "pink champagne" colored vinyl. Includes the track "Tick of the Clock" from the film Drive.

"... the transformation of Chromatics has been so effortless that it's still easy to be wowed by the results. But listeners who are only familiar with the band's forays into shambling punk will certainly be surprised by Night Drive's assured songwriting (which would wow even if the band had been chasing this narcotic Eurodisco sound for years) and how it wrings ravishment out of electro moves that should be long-drained of their charms."—Pitchfork.
Chromatics

:

Night Drive (Ten Year Remastered Edition)

The Telephone Call

Chromatics

1' 50''

Night Drive

Chromatics

2' 00''

I Want Your Love

Chromatics

2' 00''

Running Up That Hill

Chromatics

2' 00''

Killing Spree

Chromatics

2' 00''

Healer

Chromatics

2' 00''

Tomorrow Is So Far Away

Chromatics

2' 00''

Let's Make This A Moment To Remember

Chromatics

2' 00''

Tick Of The Clock

Chromatics

2' 00''

Shining Violence

Chromatics

2' 00''

Circled Sun

Chromatics

2' 00''

The Gemini

Chromatics

2' 00''

Accelerator

Chromatics

2' 00''
Nice as well: