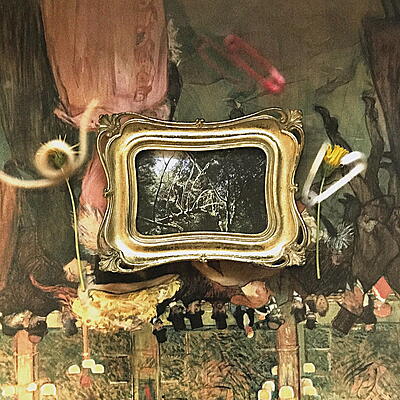 A Goal is an Image is City's debut LP for Rabit's Halcyon Veil, providing an elusive yet tangibly bittersweet testament to the Vancouver artist's hybrid of experimental metal and weightless electronics. Further to his Arcadia [2016] mix for Halcyon Veil, City distills that release's ideas into 11 naturally tempestuous takes on the digital zeitgeist, ripping away its hi-fi sheen to reveal a reactive ecology of overgrown, semi-organic textures and pranging rhythms wrapped up in chaotic harmony.

Getting right under the skin of his thing, Will Ballantyne has realised a mean contribution to the conversation around peripheral club music and its electronic production, morphing its perimeters between computer game and film soundtrack tropes, soundsystem-testing prangs, and styles foreign to the putative club experience. The effect is simultaneously hyperreal and severed from the daily grind; a simulacra of impossibility animated with physically reactive impact.

Across the album listeners are torn in and out of 'the box', perpetually reframing his sound between naturally elegant and digitally unreal environments in a way that resonates with the LP artwork. He establishes this upending uncertainty with the gravelly whorl of field recordings, processed textures and floating, Coil-like harpsichord motifs in Provinces and Your Stream, harnessing a sense of struggle against gravity in the buckshot-riddled mass of Pain/Power and with searing trance riffs nailed into place on End Zone like Lorenzo Senni running a gauntlet of snipers.

City's experi-metal impetus bleeds thru most strongly in the glowering poise of Inevitable, and with needling bite in the towering recursive riffs of Ffaith, quite literally galvanised thru electronic process, leading to the record's most captivating, expansive pinnacle with field recordings and sample pack presets diffused into the otherworldly detachment of SAR and his trance dress-down, Immaculate.

As Halcyon Veil's first full length feature album, A Goal is an Image arguably epitomises the label's aesthetic - unflinchingly upfront and uncannily emotive - and gives voice to a true outsider spirit that will be recognised by anyone of a similar disposition.
City

:

A Goal Is An Image

Your Stream

City

00' 00''

Mutual Life

City

00' 00''

The Good Soldier

City

00' 00''

Of One Kind

City

00' 00''
Nice as well: