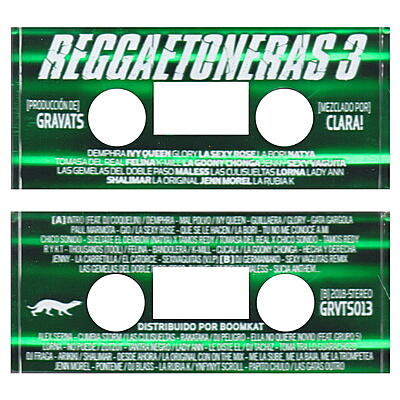 Low Jack and co's Editions Gravats call up DJ Clara! for a killer 3rd volume of her female MC-focussed 'Reggaetoneras' mixtape series

Hailing from Northern Spain but based in Brussels, Clara!'s previous tapes for Editions Gravats' affiliates at PRR! PRR! are guaranteed party starters, serving to highlight stacks of female reggaeton MC from the '90s thru to the modern day.

Clara!'s 3rd mixtape is also her baddest by many measures, masterfully sweeping thru dozens of tracks in just under 30 minutes, and including a healthy handful of her own blends and edits (the dembow versions of Darude and the Outhere Brothers stand out) along with reams of Kalimotxo- soaked, beach-ready anthems from Demphra, Ivy Queen, La Sexy Rose, La Bori, La Goony Chonga, Sexy Vaguita, Las Culisueltas and many more.
Clara!

:

Reggaetoneras 3

Reggaetoneras 3 - Face A

Clara!

Reggaetoneras 3 - Face B

Clara!
Nice as well: