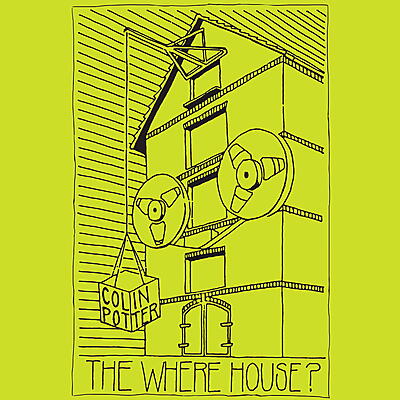 2LP: Incl. double sided postcard
Colin Potter is a sound engineer and musician currently based in London. He has worked within the fields of electronic and experimental music for over 35 years, collaborating with the likes of Current 93, The Hafler Trio, Organum, Andrew Chalk, and most notably as a key part of Nurse With Wound alongside Steven Stapleton. He started the esteemed ICR (Integrated Circuit Recordings) label in 1981 releasing a clutch of wonderful home recordings of his own, over half a dozen small run cassette only releases.

'The Where House?' was recorded in 1981 at IC Studio, a converted wash house in Sutton on the Forest in North Yorkshire. The album was self-released on cassette that same year via ICR. This expanded double LP edition features all 13 tracks from the original tape on vinyl for the first time plus 4 bonus tracks. 'The Where House?' is a prime example of early UK post-punk/industrial electronic music. "Combining dub, electro, and krautrock rhythms with psychedelic, kosmische noise in multiple mutations ranging from almost pop-wise songcraft to horizon-scanning motorik flights," says Boomkat. Most of the damage was done by Colin using guitars, synths, sequencers, drum machines, percussion, and modified toy keyboards with fairly primitive 4-track recording equipment. He was assisted on some of the tracks by Stephan Jadd-Parry (guitar, percussions), Jon Caffery (guitar, bass, e-bow, percussion) and Nick Jackson (synth).

All songs have been remastered for vinyl by George Horn at Fantasy Studios in Berkeley. The record is sleeved in a replica of the original cassette artwork by Jonathan Coleclough. Every copy includes a double sided postcard insert with notes from Colin.
Colin Potter

:

The Where House?

Yoursmine

Colin Potter

1' 30''

Alleys

Colin Potter

1' 30''

In The Hall

Colin Potter

1' 30''

Away From The Public Eye

Colin Potter

1' 30''

Later, That Same Night

Colin Potter

1' 30''

Vertigo

Colin Potter

23''

Ssroi'asitjk

Colin Potter

1' 30''

Just Another Five Minutes

Colin Potter

1' 31''

For All You Knew

Colin Potter

1' 30''

The Long Road

Colin Potter

1' 30''

Leer

Colin Potter

1' 30''

Jackpot

Colin Potter

1' 30''

The Burrowing Engine

Colin Potter

1' 30''

The State

Colin Potter

1' 30''

Marsh Fog

Colin Potter

1' 30''

Potters Wheel

Colin Potter

1' 30''
Nice as well: