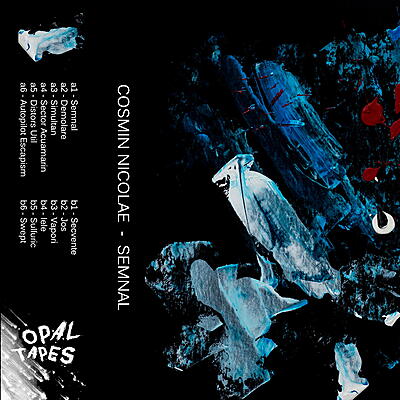 Incl. Instant Download
Over the last decade the work of Cosmin Nicolae has been a cresting force of forward thinking electronic music. His TRG alias formed the inaugurate release on the peerless Hessle Audio with the Put You Down / Broken Heart 12" (HES001). His music has featured across Tempa, ~scape, 50 Weapons, Hotflush, the list goes on. In essence he forms an important part of the story of the cross pollination of UK "bass" music with techno and his hard work and craft has seen him maintain his fixture as a sought after talent, both producing and as a DJ.

One element which always amplified his work beyond that of many other peers is Cosmin's dedication to crafting interesting sound from scratch, a process which precedes his production and has it roots in home-brewed experimentation with instruments, electro-acoustic process and improvisation. With this debut release under his actual name, Opal Tapes has provided a space for Cosmin to have free reign to display another, looser and more experimental side of his repertoire.

Opening track "Semnal" peers slightly at the UKG influence he has worn in his early career, the track swings forward, percussions align, but the palette of sound at use here is one of moist rustic underfloor. A forested garage, humid and rotten. "Demolare" is the first of several pieces which constrain to use an ultra-simple motif, on this occasion a bone-rattling formant beat which convolves and vibrates as gaseous synths light the way. "Simultan" evokes the Clicks & Cuts comps of yore, randomising and rearranging itself as modular systems attempt to speak a common language. "Sector Acuamarin" see's honey sweet trembles and pin-sharp percussion dot around the stereo in another rural retreat from the science lab the remainder of the album often conjures. "Distors Util" once again revolves around the one take, the idea, allowed to bleat and operate alone in a conjured malfunction. Auxiliaries flow out to spring reverbs enriching the mass. Our A side closes with "Autopilot Escapism" where metallic membranes pip and pop atop a gorgeous perfume of digital choir, certainly one of the albums highest points.

The B opens with "Secvente" where the factory is turned back on with just enough power to clear the damp. "Jos" thumbs an ugly beat of bleating module against a harrowed soundscape, pulling back the curtain just in time to see the machines start to really fry. Odd dub shapes are thrown around during "Vapori" before "Iele" bottoms out into a dread-scape of factory churn and gut-bumping delays as the whole damn Gamelan is thrown at hyper-speed into the blender to terrifying psychedelic effect. "Sulfuric" and "Swept" close the album out with a double down of acid-burn and defected skwee.

In many ways, an impossible album to classify, it feels as if it's creating itself a points. The ideas therein are the genesis of so many fully "functional" songs but hearing them like this brings us so much closer to someone else's mind and fingertips.
Cosmin Nicolae

:

Semnal

Semnal

Cosmin Nicolae

00' 00''

Demolare

Cosmin Nicolae

00' 00''

Simultan

Cosmin Nicolae

00' 00''

Sector Acuamarin

Cosmin Nicolae

00' 00''

Distors Util

Cosmin Nicolae

00' 00''

Autopilot Escapism

Cosmin Nicolae

00' 00''

Secvente

Cosmin Nicolae

00' 00''

Jos

Cosmin Nicolae

00' 00''

Vapori

Cosmin Nicolae

00' 00''

Iele

Cosmin Nicolae

00' 00''

Sulfuric

Cosmin Nicolae

00' 00''

Swept

Cosmin Nicolae

00' 00''
Nice as well: