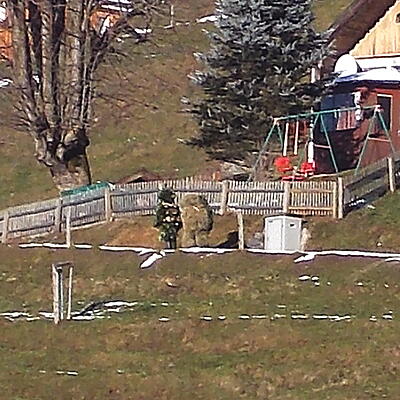 LP: Ltd. to 300 copies, 45rpm LP
Composed of Field-Recordings captured in Thailand, Iceland, and UK. Mastered and cut by Andreas 'Lupo' Lubich at Calyx, Berlin.

Daniel Löwenbrück (b.1974) is a German performance artist, composer of tape-music and (sometimes) visual-artist living in Berlin. He is releasing music and performing internationally since the 90's as part of the Schimpfluch-Gruppe (with Rudolf Eb.er, Dave Phillips, Joke Lanz), as a duo with singer and performance artist Doreen Kutzke, as part of the Cabaret Performance-Group Ohne (with Tom Smith, Dave Phillips, Reto Mäder), and solo as Raionbashi and under his real name, including performances and festival appearances in New York, Paris, Moscow, Minsk, London, Oslo, Stockholm, Helsinki, Tokyo, Vienna etc. He has collaborated with Mattin, Column One, and lately with Leif Elggren and Marcellvs L. He founded the label Tochnit Aleph in 1994 publishing records and editions of Musique Concrete, Sound Poetry, Artist-Records & -Multiples and Noise Music. Since 2008 Löwenbrück curates the Gallery & Record-Shop Rumpsti Pumsti (Musik) in Berlin.

Marcellvs L. was born in 1980 in Belo Horizonte, Brazil and currently lives between Berlin and Seyðisfjörður. Working in both video and sound, he has exhibited internationally since the mid 00'. He participated in numerous solo, group exhibitions and Biennials such as the 16th Biennale of Sydney (2008), 9th Biennale of Lyon (2007) and 27th Biennale of São Paulo (2006). He exhibited at MAC - Musée d'art contemporain de Lyon (2014), Helsinki Art Museum (2013), Astrup Fearnley Museet (2013), ICA - Institute of Contemporary Arts London (2012), NBK - Neuer Berliner Kunstverein (2011), Kunsthalle Wien (2010), New Museum in New York (2010), Museo Nacional Centro de Arte Reina Sofia (2008), ZKM Museum of Contemporary Art (2008), Museum of Modern Art in Sao Paulo (2007) among other. Including some of the prices he has received are the Ars Viva Price 07/08 Sound and the main prize of 51st International Short Film Festival Oberhausen in 2005.
Nice as well: