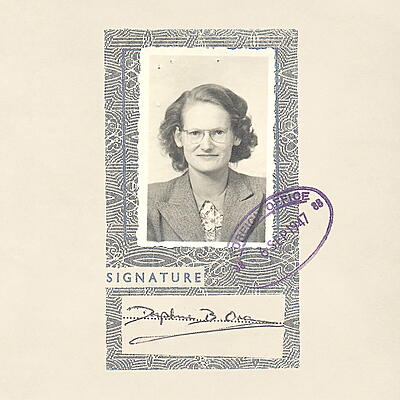 4LP: 2019 Repress, clear vinyl, gatefold sleeve
Young Americans, operating under the Modern Love umbrella, presents an extremely special vinyl pressing of some of the most important early electronic music ever made. Daphne Oram was the founder of the BBC Radiophonic Workshop, a department she more or less single-handedly created in 1958 camping out at the BBC studios for nights on end splicing tapes and working with various modified machines to create her abstract soundscapes. Eventually the BBC bent under her pressure and in studio 13 created the soon-to-be-legendary Radiophonic Workshop, with Daphne Oram as its first director.

Oram also invented her own 'drawn-sound' technique, a process whereby strips of 35mm film would be manipulated before being fed into her home-made 'Oramics' machine which would convert and 'read' the film into sound. Despite her considerable and historic list of achievements, Oram's life and work remain largely unknown by the wider public. As this remarkable 44-track collection shows, however, her work ranks amongst the most varied and pioneering ever made, it's quite incredible to think that this is the first time any of these precious recordings have been available on vinyl.

* Exremely special artefact from the founder of the BBC Radiophonic Workshop
* None of this material has ever been available on vinyl before
* Oram was the first woman in the world to direct an electronic music studio, the first woman to set up a personal studio and the first woman to design and construct an electronic musical instrument
* 155 minutes / 8 sides of vinyl cut by Lupo at D&M
* Housed in heavyweight 300gm Gatefold sleeve featuring rare archive photographs.
Daphne Oram

:

Oramics

Introduction

Daphne Oram

3' 34''

Power Tools

Daphne Oram

48''

Bird of Parallax

Daphne Oram

13' 03''

In a jazz style

Daphne Oram

43''

Purring Interlude

Daphne Oram

48''

Contrasts essconic

Daphne Oram

8' 20''

Lego builds it

Daphne Oram

1' 01''

Pompie Ballet

Daphne Oram

3' 40''

Intertel

Daphne Oram

1' 24''

Adwick high school no.1

Daphne Oram

51''

Look at Oramics

Daphne Oram

44''

Rotolock

Daphne Oram

1' 32''

Purple Dust

Daphne Oram

6' 51''

High Speed Flight

Daphne Oram

54''

Studio Experiment no.1

Daphne Oram

1' 54''

Four Aspects

Daphne Oram

8' 07''

Dr. Faustus suite

Daphne Oram

9' 41''

Adwick high school no.2

Daphne Oram

2' 22''

Tumblewash

Daphne Oram

2' 05''

Studio Experiment no.2

Daphne Oram

33''

Rockets In Ursa Major

(Excerpt 1)

Daphne Oram

4' 57''

Food Preservation

Daphne Oram

3' 26''

Studio Experiment No.3

Daphne Oram

1' 12''

Episode Metallic

Daphne Oram

5' 33''

Studio Experiment No.4

Daphne Oram

44''

Adwick High School No.3

Daphne Oram

1' 40''

Fanfare Of Graphs

Daphne Oram

1' 02''

Studio Experiment No.5

Daphne Oram

1' 19''

Brociliande

Daphne Oram

10' 16''

Mary Had A Little Lamb

Daphne Oram

2' 11''

Incidental Music For Invasion

(Excerpts)

Daphne Oram

5' 09''

Costain Suite

Daphne Oram

13' 21''

Rockets In Ursa Major

(Excerpt 2)

Daphne Oram

1' 27''

Passacaglia

Daphne Oram

4' 30''

Missile Away

Daphne Oram

2' 12''

Pulse Persephone

Daphne Oram

4' 07''

Adwick High School No.4

Daphne Oram

2' 22''

Rockets In Ursa Major

(Excerpt 3)

Daphne Oram

3' 30''

Conclusion

Daphne Oram

21''

Studio Jinks

Daphne Oram

6' 09''
Nice as well: