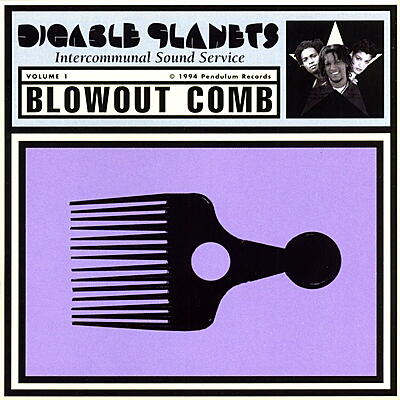 2LP: Incl. 18"x24" fold-out poster
We are finally set to reissue Blowout Comb, the 1994 second album by cult, Brooklyn-based hip hop trio DIGABLE PLANETS. The album is named for the combs used to maintain an Afro hairstyle, and that's significant. The group's ISHMAEL "BUTTERFLY" BUTLER said it summed up what they wanted to do with it: "It means the utilization of the natural, a natural style," he has said. Like with 1993's debut Reachin' (A New Refutation of Time and Space), 'utilizing the natural' meant creating hip hop that blended jazz with the formidable rap skills of the aforementioned Butterfly, CRAIG "DOODLEBUG" IRVING and MARY ANN "LADYBUG MECCA" VIEIRA. Unlike that debut, it meant broadening to include guests such as GANG STARR's GURU, JERU THE DAMAJA, and JAZZY JOYCE. Following the gold-selling commercial success of their debut, they here set out to prove their artistic prowess. This is intelligent, alternative hip hop that sounded like party music. Its lyrics are dense with wit, social commentary and politics - and its original inner sleeve was modeled on the newspaper of the Black Panther movement. Includes an 18"x24" fold-out poster.

Received a Best New Reissue 9.3 rating from Pitchfork.
Digable Planets

:

Blowout Comb

The May 4Th Movement

Digable Planets

4' 56''

Black Ego

Digable Planets

7' 02''

Dog It

Digable Planets

4' 21''

Jettin'

Digable Planets

4' 39''

Borough Check

Digable Planets

6' 56''

Highing Fly

Digable Planets

1' 23''

Dial 7

(Axioms Of Creamy Spies)

Digable Planets

5' 47''

The Art Of Easing

Digable Planets

5' 06''

K.b.'s Alley

(Mood Dudes Groove)

Digable Planets

2' 06''

Graffiti

Digable Planets

4' 03''

Blowing Down

Digable Planets

3' 51''

9Th Wonder

(Blackitolism)

Digable Planets

4' 27''

For Corners

Digable Planets

7' 02''
Nice as well: