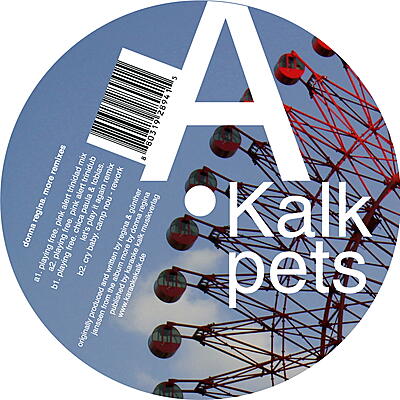 It's been almost eight years since Donna Regina's "Star Ferry Remixes" have been released on Karaoke Kalk and they've become sort of a classic by now, one that you can put on again and again - after all who wouldn't like to recall the musical feats of Isolee, Michael Mayer or Wechsel Garland.
So now, with the release of Donna Regina's 2nd album "More", the idea suggested itself to once again have some of the tracks remixed by their friends. The 12" starts off with two remixes of "Pink Alert" featuring a collaboration of studio wizard slash synthesizer freak Curio with the journalist, DJ and label owner (Running Back) Gerd Janson. These are followed by a highly melodic version of the song "Playing Free" remixed by Chica Paula & Tobias. Paula Schopf is one half of the Duo Chica and the Folder as well as a sought DJ. Tobias Freund is best known through his solo releases on Logistic and through his participation with the projects NSI and Sieg über die Sonne.
Completing the 12" is a version of "Camp Nou", a debut collaboration of Donna Regina's live member Steffen Irlinger together with Marian Müller, a project that will hopefully be followed up in the future...
Donna Regina

:

More Remixes

Playing Free

(Pink Alert Trinidad Mix)

Donna Regina

8' 17''

Playing Free

(Pink Alert Trinidub)

Donna Regina

5' 14''

Playing Free

(Chica Paula & Tobias. Let's Play It Again Remix)

Donna Regina

6' 33''

Cry Baby

(Camp Nou Rework)

Donna Regina

6' 44''
Nice as well: