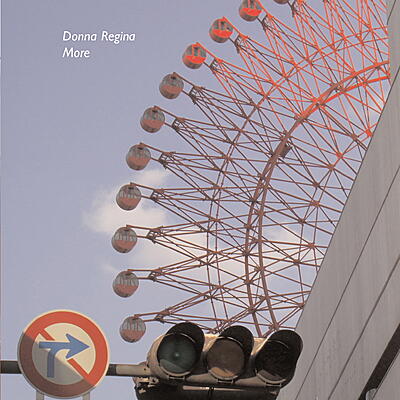 Incl. Instant Download
More is the sound of home.
On the road somewhere - alongside foreign waters, beneath foreign skies - it is the echo of your favourite memories. As if a friend was calling your name. A warm and fuzzy feeling arrives immediately with the first few beats of the opening song, a vague elation arises with the entry of the bass.
More is Donna Regina's 10th album, it plays deft music that has known the world but doesn't insist on permanently invoking it. Music that carries the world inside rather than getting bogged down in it. Music that has international calibre but doesn't urge to dislplay it.
More plays music about friendship, about sharing adulthood. Music that has grown up, too. Music that is present without being trendy.
Songs about positionning rather than posing.
Lyrics that don't describe heroic battles but those little private battles that sap our energy within our everyday life. The demand not to expect to much from life - but by no means to little neither. And the encouragement to stand up for the people and things you like or maybe even love.
Melodies and arrangements that transport a playful easiness. And a harmony whose preciousness is evoked by the lyrics. To keep this harmony is a challenge and can be done only with concentration, genuineness and a good deal of energy. But if you succeed it is a lot of fun. Again and again. Like the pop hit aspirant Dream On that seems like a cheerful children's song with its clear bells and the fair and sober voice of Regina Jannsen - but indeed it is a sharp declaration of war to a life full of complacency and a self-prescribed blikered idyll.
A sound that one's chosen to love a long time ago and that has been true in return ever since. Perfectly straightforward. Straightforwardly perfect.
An album for a very special moment when you catch yourself thinking: This is exactly how it's supposed to be. Like this it could be forever. Finally. For a moment. This very special moment that you can fall into for a short while before you have to return to your own life.
Donna Regina

:

More

More

Donna Regina

3' 53''

Cry Baby

Donna Regina

4' 41''

Good Morning Day

Donna Regina

1' 18''

Playing Free

Donna Regina

4' 48''

To Be Around

Donna Regina

2' 44''

Shape My Day

Donna Regina

4' 48''

Là Òu Je Suis

Donna Regina

4' 46''

She's My Friend

Donna Regina

3' 51''

Heart Oh Heart

Donna Regina

9' 04''

Dream On

Donna Regina

2' 53''
Nice as well: