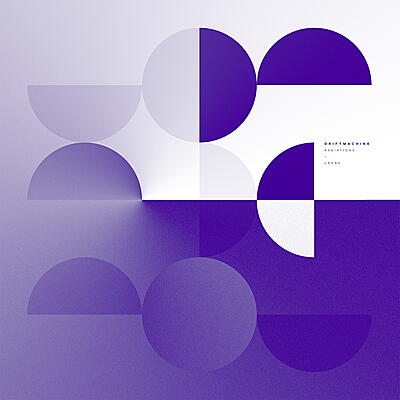 LP: Includes download, Ltd. to 350 copies, purple colored Vinyl, incl. Postcard
Incl. Instant Download
The fourth album by Driftmachine is not an album in the classical context, it´s a collection of new studio music, remixes by Shackleton and The Sight Below, and material previously available only in digital formats.

The album starts off with the surprising Shackleton remix of Radiations, a little gem gleaming with all the spacious percussions you can expect from the British producer. Stretching vibrations over tense atmospheres and post-techno broken beats, Shackleton (who generously offered to contribute this track on his own initiative) delivers a fine feat of rhythmic acrobatics, deconstructing Driftmachine's modular synthesis. The album features Driftmachine's latest studio track, Vermiform Burrows, a swinging composition very much in line with the duo's recent rhythm-oriented work. The Sight Below's remix of Vermiform Burrows offers a very different perspective and interpretation of their music: minutely detailed and nebulous, an expansive ambient-techno track that de-accelerates the original's beat. Other surprise in store, is Call Mr. Moriba, which was originally offered as a digital-only bonus-track on the debut album Nocturnes (2014), Driftmachine's critically acclaimed first LP, and is now available in vinyl format for the first time. Also included is the original LP version of Radiations, first published in the Colliding Contours (2015) album. Driftmachine's Radiations is an excellent showcase of Andreas Gerth and Florian Zimmer's sound: obsessive, symmetrical, multilayered; a deep and elegant language based on the shaky, unpredictable foundations of modular synthesis.

LP limited edition of 350 copies pressed on purple colored vinyl, includes a post card with original artwork and free download coupon.
Driftmachine

:

Radiations

Radiations

(Shackleton RMX)

Driftmachine

10' 27''

Vermiform Burrows

(The Sight Below RMX)

Driftmachine

07' 36''

Call Mr. Moriba

Driftmachine

05' 55''

Vermiform Burrows

Driftmachine

07' 15''

Radiations

Driftmachine

05' 28''
Nice as well: