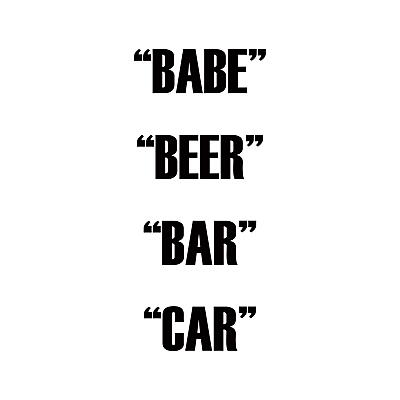 Hospital Productions finally compile some of Matthew Folden, aka Dual Action's most sought-after material, a set of forays into distorted Ambient, mutant House and Jungle - even Grime and Footwork variants - as released on his hard-to-find Babe Beer Bar Car tapes, issued between 2014-2016 - and compiled here onto vinyl for the first time.

A core figure on Prurient's label, affectionately described by Fernow as an "uninvited guest sort of figure who travels around fxcking shit up on the lonely", Folden has appeared on numerous and seminal Prurient recordings including the demo version of the groundbreaking Bermuda Drain album, the final tape recordings made at the original hospital productions brick and mortar store as Prurient's 'Oxidation' and the new released 7LP of doom electronics Rainbow Mirror which arrived in 2017 to commemorate the 20 years of the project.

Babe Beer Bar Car takes in signature sluggers that sound like The Haters gone house, thru to rolling D&B and footwork rhythms fringing on the grey area, each half-lit by patented atmospheric pollutants.

The set builds a murky picture of a character who spends long nights with his drum machine - it's hard to shift the feeling that this is the kind of music - numbly expressive, rudimentary and bluntly driven by urges - that someone befitting of the great American lounge-lizard/drifter stereotype might make, or at least listen to, after dark.

Its a quintessentially Hospital Productions sound - deeply satisfying in its mix of black humour laced with flashes of demonic genius.
Dual Action

:

Babe Beer Bar Car

Maraschino Cherry

Dual Action

00' 00''

Somewhere In Miami

Dual Action

00' 00''

Tax Season

Dual Action

00' 00''

Loudmouth

Dual Action

00' 00''

So Sue Me

Dual Action

00' 00''

Cash Only

Dual Action

00' 00''

Two Way Mirror

Dual Action

00' 00''

This Ones On Me

Dual Action

00' 00''

White Lighter

Dual Action

00' 00''

Keep The Change

Dual Action

00' 00''

Zip It

Dual Action

00' 00''

Cochi Loco

Dual Action

00' 00''

Daisy

Dual Action

00' 00''

Shit Bird

Dual Action

00' 00''
Nice as well: