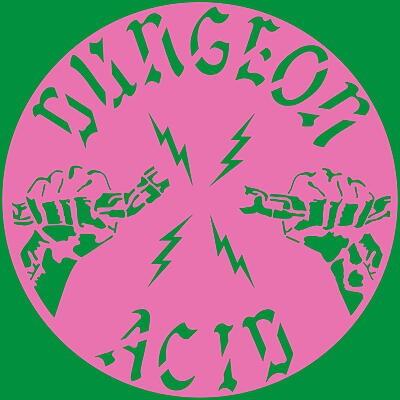 2LP: Ltd. to 300 copies, incl. insert
Incl. Instant Download
Jean-Louis Huhta's Dungeon Acid turns out a devilish debut album proper of Detroit-inspired techno and 303 extrusions, plus sidewinding psychedelic dance music, recorded and edited between 2010-2019 for his pals and admirers at iDEAL

Synonymous with Gothenburg's iDEAL for the past decade, Dungeon Acid has become the most vital of drummer and producer Jean-Louis Huhta's many projects, following a musical arc since the '80s which has seen him variously play with crust punk group Anti Cimex (and tour the UK alongside Napalm Death in a van with no seats), become a member of cult Swedish rave band Lucky People Centre, play ritual rock tribalism with The Skull Defekts, and duel with electro- acoustic heavyweights such as Zbigniew Karkowski and CM Von Hausswolff.

Yet for all his stylistic versatility, Huhta's heart has consistently been found in tough, driving and psychedelic strains of house and techno indebted to Detroit since the '90s, and that inspiration comes out in unexpected ways across his first Dungeon Acid album proper. Working within this square but malleable meter, Huhta's playfully deep character burns through in his persistently detailed tweaks and hypnotically layered productions, where he's unafraid to push into the red or lower the tempo and croon like a shaman conducting ancient rites.

In 9 parts he effectively joins the dots between the psychy, punkish dance trax of Bo¨rft Records and the Motor City mechanics of Underground Resistance, generating a singular, machine-borne but organic flow with big highlights between jelly-limbed acid opening, through to steely warehouse hammers, a slow and skudgy hymn to nose drip dynamics, and two belting barrels of warped Biker Bar funk that would surely make the grade in the 313 any time between the early '90s and now.

Dungeon Acid is brilliant testament to the art of marrying mutually exclusive bedfellows as much as it is a masterclass in dare-to-be-different house and techno, all done with hard-won skills, natural personality and warmth, with history and future at the front of the mind.
Dungeon Acid

:

Dungeon Acid

2P02

Dungeon Acid

6' 38''

7Y02

Dungeon Acid

8' 10''

3P03

Dungeon Acid

5' 17''

4R01

Dungeon Acid

7' 10''

5R02

Dungeon Acid

10' 42''

6Y01

Dungeon Acid

8' 37''

8G01

Dungeon Acid

5' 35''

9G02

Dungeon Acid

9' 59''

1P01

Dungeon Acid

7' 44''
Nice as well: