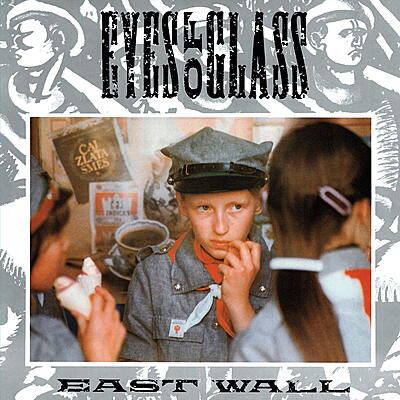 12": Incl. 2-sided Postcard
East Wall was an Italian electronic dark wave band formed by Fabrizio Chiari (ex keyboardist of Kirlian Camera) and Wilma Notari in 1982. After a series of demos and live performances, the duo recruited Angelo Bergamini of Kirlian Camera to help with arrangement and synthesizers. In September 1984 they booked a recording time at Master Studio 33 in Cremona Italy. Working with produced Ray Masola, they recorded their debut single "Eyes Of Glass", which was released on No Comment in early 1985. The equipment set up was a PPG Wave 2, Roland ProMars, Roland Juno 60, Simmons drum, and an upright piano. "Eyes Of Glass" is an outstanding example of 1980s Italo disco full of dark, moody atmosphere and depth. Wilma Notari's coy vocals cast a spell on the listener as she weaves a story about lost love and "bitter tears". Included here are the original extended 12" mix and instrumental version with mid-song breakdown and dubbed out chorus.

All songs are remastered for vinyl by George Horn at Fantasy Studios in Berkeley. Housed in the original jacket featuring a photo of a boy by Pushe 27. Each copy includes a 2-sided postcard with photos of the band, lyrics, and liner notes by Flemming Dalum.
East Wall

:

Eyes Of Glass

Eyes Of Glass

(Vocal)

East Wall

1' 30''

Eyes Of Glass

(Instrumental)

East Wall

1' 30''
Nice as well: