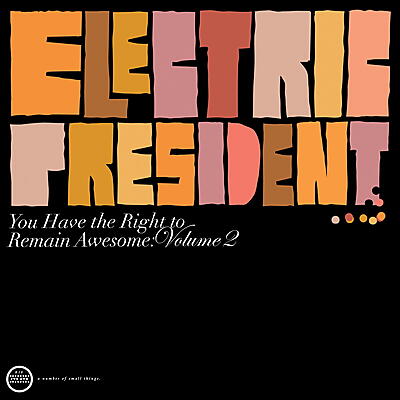 Incl. Instant Download
Once upon a time it was the jukebox that made pop music. The boys have thrown their pocket-money in and the girls have danced. Or vice versa. Indeed, the vinyl is a romantic, a sentimental medium.
And if one of the two Electric-President-singles was put in a jukebox the girls (and the boys) would dance. The buttons would soon be well-worn. It's because the songs are romantic? Partly. It's because the songs touch the very foundations of pop music: the storm and stress, the inwardness and the nonchalance, and melodies, melodies, melodies.
The universe of 24-year-old Ben Cooper from Jacksonville Beach/Florida is an echo-chamber with all kinds of doors that are open to small indie within big pop. All of that can also be listened to on the self-titled debut (Morr 01/2006) that was published recently - including these two 7inches completing this album. Also in a jukebox. "You have the right to remain awesome, vol. 2" starts with a dawn of two guitar patterns and flows into a captivating melody that is supported by tender trumpets: "I'm not the lonely son (I'm the ghost)" is a meandering pop song, a song for sunsets.
"Wearing influences on our sleeveless t-shirts" on the second side appears equally direct but more quiet and stately. And once more there is Ben Cooper's clear and direct voice. A ballad maybe - were there no handclaps within the chorus and if "ballad" was not a cheesy category anyway.
Electric President

:

You Have The Right To Remain Awesome: Vol. 2

I´m Not The Lonely Son (I´m The Ghost)

Electric President

3' 17''

Wearing Influences On Our Sleeve-less T-shirts

Electric President

3' 49''
Nice as well: