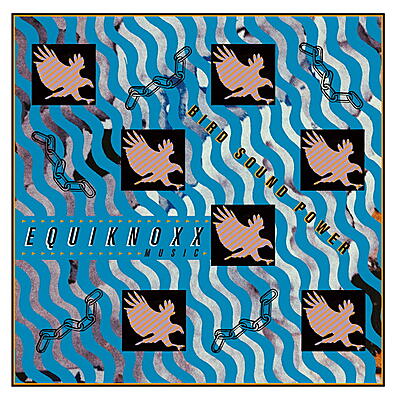 2LP: 2018 Black Vinyl REPRESS
Equiknoxx are one of the hottest, most innovative dancehall squads from Jamaica right now; Bird Sound Power is their debut collective show of strength, packing 12 avant, crooked riddims by core members Gavsborg and Time Cow, plus Bobby Blackbird and Kofi Knoxx, with vocals by Kemikal, Shanique Marie and J.O.E. (R.I.P).

The set was parsed and pieced together by Jon K & Demdike Stare , and now thanks to link ups via Swing Ting's Balraj Samrai (a longtime livicated supporter), it is issued on Demdike's DDS imprint, replete with Jon K's sleeve design.

Easily identified by the squawking bird idents peppering their cuts, Equiknoxx productions have been big in the dance since Gavin Blair a.k.a. Gavsborg produced Busy Signal's billboard hit Step Out in 2005, followed by key instrumentals for Beenie Man, Aidonia, Masicka, and T.O.K. - with many released on 7" thru their Equiknoxx Musiq label, and some of which, such as Aidonia's Negative, are included in this set.

Bird Sound Power arguably marks up the most striking riddim album you'll hear from JA in 2016, weighted with the potential to open up perceptions of current dancehall thanks to the mad character and broad reference points of its producers, encompassing King Jammy's foundational digi-dub and Dave Kelly's Mad House sound as much as rugged New York hip hop and the wigged- out, feminine pressure of Virginia Beach's Timbaland or The Neptunes.

The oldest tune inside dates to 2009, but the rest are relatively recent dancehall mutations, including a number of exclusives produced in the last 12 months. Each one reps for Equiknoxx's unique aspects, such as Jordan Chung a.k.a. Time Cow's brilliantly bizarre, layered arrangements of film samples, sawn-off hooks and digi-tight beats, whilst also a result of as their distinguished family vibe.

Bird Sound Power exists in a paradox, contemporary but classic, and with as much potential to turn new heads onto current JA sounds as Mowax's Now Thing set back in 2001, which remains a key touchstone for all fwd looking producers.
Equiknoxx

:

Bird Sound Power

Last of the Mohicans

Equiknoxx

3' 45''

Peanut Porridge

Equiknoxx

3' 16''

Someone Flagged It Up

Equiknoxx

3' 32''

Porridge Should Be Brown Not Green

Equiknoxx

3' 10''

A Rabbit Spoke To Me When I Woke Up

Equiknoxx

3' 12''

The Link

Equiknoxx

3' 30''

Timebird

Equiknoxx

3' 01''

I Really Want To Write On Her Purple Wall

Equiknoxx

3' 43''

Lizard of Oz

Equiknoxx

2' 25''

Congo Get Slap Like A Congo Get Slap

Equiknoxx

3' 19''
Nice as well: