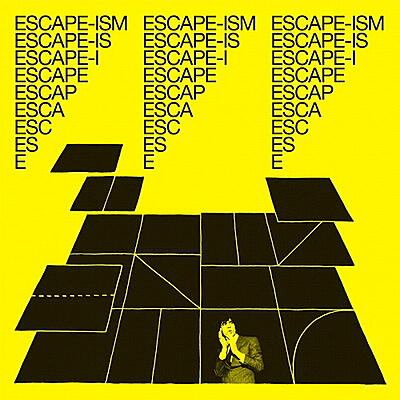 Introduction To Escape-ism
Merge
MRG 613 LP
LP: Includes download, printed dust sleeve inside a jacket with a high-gloss finish
Introduction to Escape-ism by ESCAPE-ISM is the first "solo" record by IAN SVENONIUS—of groups THE MAKE-UP, CHAIN & THE GANG, XYZ, WEIRD WAR, NATION OF ULYSSES, etc., and author of underground bestsellers such as The Psychic Soviet, Supernatural Strategies for Making a Rock 'n' Roll Group, and Censorship Now!!—and as such, it's profound, prophetic, perverse, and poetic. It's introverted glitter, violence against the state, obsessive desire; it stomps on convention, shreds constitutions, clobbers pre-conceived notions of what a record can be.

Yes, that's right: a single-person performance by I F Svenonius—recognized by Performer Magazine as the "greatest performer on the planet"—Introduction to Escapeism is a bite into a one-banana bunch.

A drum box, a guitar, a cassette player, and a single slobbering, sinful voice singing out… for a way out. Escape-ism's Introduction to Escape-ism isn't just the soundtrack for a late-night drive on a lonely interstate, or a platter played to incite abandon at a pajama party with one's pals. It's also a tunnel to tomorrow. It's a mineshaft to the motherlode.
Escape-ism

:

Introduction To Escape-ism

Walking In The Dark

Escape-ism

1' 00''

Lonely At The Top

Escape-ism

1' 00''

Rome Wasn't Burnt In A Day

Escape-ism

1' 00''

Iron Curtain

Escape-ism

1' 00''

Almost No One

(Can Have My Love)

Escape-ism

1' 00''

They Took The Waves

Escape-ism

1' 00''

The Stars Get In The Way

Escape-ism

1' 00''

I Don't Remember You

Escape-ism

1' 00''

Crime Wave Rock

Escape-ism

1' 00''
Nice as well: