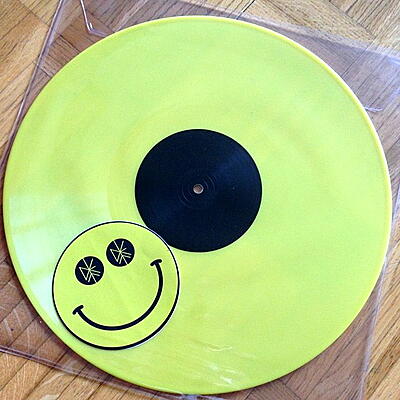 EP: Ltd. to 200 copies, yellow vinyl in PVC sleeve with smiley sticker
Invasive psychoacoustic acid killer from EVOL for the sympathetic freaks at Sweden's iDEAL.

Continuing a pursuit of altered states induced by pure frequency manipulation, 'Purple Melters' is the fourth work in a series that started with 'Proper Headshrinker' (Editions Mego, 2013), a series which will also see a release on Diagonal later this year.

Essentially, it's acid house without the house, drilling down to the 303's micro phase variations and psychedelic sleight-of-mind conjuring a sense of movement from ostensibly static phrases.

Granted, you have to be a bit of a sadist to enjoy this, but really only in the same sense as a proper hardcore hooligan who gets their rocks off jackin' in man- made synthetics to amplified music while gobbling illicit chemicals from a Dutch laboratory supplemented by synthetic hormone-infused energy fizz.
Nice as well: