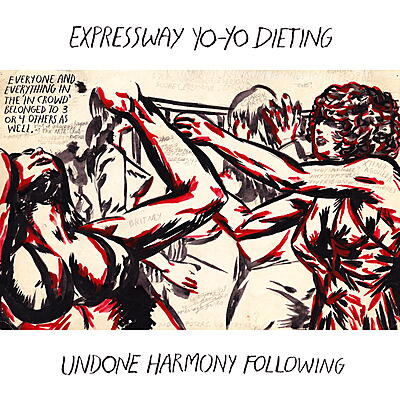 Expressway Yo-Yo Dieting
Undone Harmony Following
TYPE131V
Incl. Instant Download
"Undone Harmony Following" is the latest offering from Oregon's Pat Maher, a noise veteran whose career has taken him in a variety of different directions, from the pitch-black drone of his work as Indignant Senility to the fractured house of Diamond Catalogue.

This time he reprises the Yo-Yo Dieting project (last seen on 2010's exemplary "Bubblethug") to once again plumb the depths of screwed and chopped rap, diving into haunted crevices and dissolving his collection of tapes and battered CDs and emerging with a truly confounding full-length.

Maher's skill is in retaining the unmistakable sound of hip-hop while pushing and pulling it into narcotic, ear-destroying directions. Think a tenth generation copy of a DJ Screw tape piped through a broken overdrive pedal or Lil Ugly Mane blasted through a blown speaker system from a car a few blocks down the street.

Tracks don't so much start and finish as they do bubble up from an oily swamp of tape hiss, reverb and delay, with beats and bass undulating beneath half-heard vocals and jagged bursts of white noise. It's not an easy listen, but it's about as vital as it gets.
Expressway Yo-Yo Dieting

:

Undone Harmony Following

Blank Ink

Expressway Yo-Yo Dieting

3' 41''

Prince Severance

Expressway Yo-Yo Dieting

4' 05''

Deserver

Expressway Yo-Yo Dieting

1' 30''

Glisten To The Game

Expressway Yo-Yo Dieting

3' 19''

Weave Yr Trip

Expressway Yo-Yo Dieting

3' 05''

Real Heehaw

Expressway Yo-Yo Dieting

3' 28''

Mirror Ark

Expressway Yo-Yo Dieting

1' 50''

Asphyxontro

Expressway Yo-Yo Dieting

29''

Bellend

Expressway Yo-Yo Dieting

3' 09''

Jest Jokin

Expressway Yo-Yo Dieting

4' 42''

Undone Harmony

Expressway Yo-Yo Dieting

6' 11''

Vortex of Affluence

Expressway Yo-Yo Dieting

3' 55''

A Rusty Ring On

Expressway Yo-Yo Dieting

2' 58''
Nice as well: