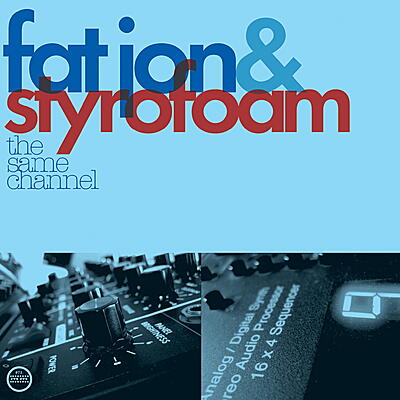 Incl. Instant Download
Two in a room. Surrounded by buttons and cables, by guitars, synthesizers, microphones. Fat Jon and Arne van Petegem have recorded "the same channel" during a few weeks. Through days and nights, interrupted only by short coffee-breaks and longer walks. In Arne's studio in Antwerp the two docked their soundships: Fat Jon, the EmCee and DJ, Arne van Petegem, the guitarist and laptop-artist. They share the passion for their machines' soul, the filing of their files. Two artists who are able to puzzle over two times for a whole night.
All around the world. Cincinnati, Antwerp, Berlin. The two got to know each other five years ago. In 2001 Arne van Petegem invited Fat Jon, still living in Cincinnati/Ohio at that time, to a workshop in Antwerp. What followed this first encounter was great respect for the music of the other and a deep, lasting friendship - as well as the idea of a common album.
"the same channel" has grown out of this. A musical encounter indeed, but far away from crossover of the indieboy-meets-homeboy-clichés. This album drinks of a common cup, it thinks musical schools, worlds and last but not least passions together: the onomatopoeic guitars of Styrofoam, Fat Jon's repetitive idiom, his talent for laconic stories. The klicks'n'cuts, carefully and detailed interwoven, and a production that - without laying it on thick - makes clear that two well versed producers are at work.
"You can scream it out" is a nimble, catchy record, enticing and tricky in its alterations and modulations. "Space gansta" is a creeping track, Dub, smoothly cruising. "Upgrade" a nonchalant speech-staccato, surrounded by one of theses enticing refrains by Styrofoam.
Fat Jon moved from Cincinnati to Berlin because of love. He is still part of the Cincinnati-based, Progressive-Hip-Hop-collective "five deez" that releases on the Berlin-based label K7!. Small world, isn't it? Fat Jon released further the album "afterthought" on ample soul/libyus music.
Arne van Petegem enlarged his indie-guitar background in the late 1990ies by means of a sampler and a Roland Juno-synthesizer - in order to lap about the joins of guitar-songwriting and Elektronika as Styrofoam. Since these days he released four records on Morr Music, the recent one is an album with guest musicians and the captivating title "nothing's lost".
Fat Jon & Styrofoam

:

The Same Channel

Acid Rain Robot Repair

Fat Jon & Styrofoam

4' 07''

Bleed

Fat Jon & Styrofoam

7' 29''

Runnin Circles

Fat Jon & Styrofoam

4' 11''

Space Gangster

Fat Jon & Styrofoam

3' 56''

Nervous Inaction

Fat Jon & Styrofoam

2' 52''

Upgrade

Fat Jon & Styrofoam

5' 32''

Scream It Out

Fat Jon & Styrofoam

4' 43''

The Middle

Fat Jon & Styrofoam

8' 26''

Generic Genes

Fat Jon & Styrofoam

4' 54''

Upgrade

(Grace Periode Mix)

Fat Jon & Styrofoam

4' 21''
Nice as well: