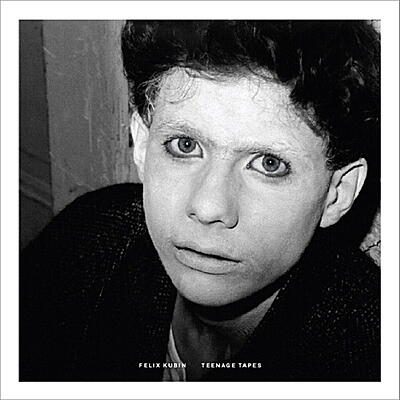 Minimal Wave is proud to present Teenage Tapes, an LP of selections from the early tape archives of Felix Kubin. The recordings span his adolescent years, when he was between 11 and 15 years old. He actually began playing music at 8 years old, when he studied piano, organ, and glockenspiel. In 1980, he acquired a Korg MS-20 synthesizer and his recordings took off from there. He began experimenting and recording a variety of tracks, adding his own bizarre lyrics to them. In 1982, he formed a band with Stefan Mohn called Die Egozentrischen 2. In 1984, they played a legendary live show at the Möbel Perdú in Hamburg, a small multifunctional gallery founded in the early 80s by a.o. Claudia Schneider-Esleben, who happened to be the sister of Florian Schneider (Kraftwerk). They were only 15 years old. Although Alfred Hilsberg of the notorious ZickZack label (Palais Schaumburg, Die Toedliche Doris, Einstuerzende Neubauten) had planned to release Felix Kubin's early music in 1985, it took another 20 years until the French label SKIPP and the German label A-Musik put out a selection of tracks for the first time. The press was raving about Felix's music which gave rise to an increase in his popularity:
Who could fail to be impressed by the mostly unheard cassette rebellion of this slightly nerdy looking pre-teen, nicely dressed by his mum with not a safety pin in sight, the only difference between his and a 100 other synthetic pre-pubescent bedroom outbursts that must have been occurring right across Europe is two words 'mad' and 'genius'. (Matt Wand, The Wire, 2003)
Immensely strange lyrics rough it up with hyper-active electro-pop-punk backing, sometimes like the work of an advanced Raymond Scott, sometimes sounding like an Adult wet dream. (Boomkat, 2003)
No problem with an extra dosis of stress and keeping the tempo fast. The lyrics and their sharp, pleasingly arrogant and latent crazy intonation declare a certain trust into the German language. (De:Bug 2003)
These days, Felix Kubin is still very active, recording new music, writing and producing radio plays and running his label Gagarin Records.
Details about the vinyl edition: the Teenage Tapes LP is pressed on 180 gram black vinyl, printed on a heavy matte sleeve and presented with an innersleeve of drawings and lyrics in both German and English text. Six of the twelve tracks on this album have never been released before.
Felix Kubin

:

Teenage Tapes

Japan Japan

Felix Kubin

55''

Agitabo

Felix Kubin

1' 03''

The Germans

Felix Kubin

1' 01''

Melancholia

Felix Kubin

1' 06''

Krematorien

Felix Kubin

1' 04''

Sonntagsspaziergang

Felix Kubin

1' 03''

Calling My Brain

Felix Kubin

48''

Sie Träumen Alle

Felix Kubin

1' 02''

Gelegenheitsexperiment 1

Felix Kubin

53''

Hans, Der Ist Nicht Artig

Felix Kubin

57''

Qualität Des Staates

Felix Kubin

1' 05''

Kunststoff Version

Felix Kubin

54''
Nice as well: